Carnival Opens New Operations Center in Miami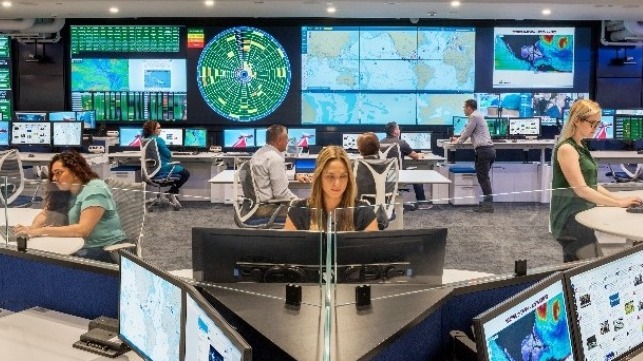 Carnival Cruise Line has unveiled its new Fleet Operations Center (FOC) in Miami, the "largest and most advanced" in the cruise industry.
The FOC is a 35,000 ft2 facility that was designed in partnership with Constant Technologies. It is anchored by a 74-foot-long video wall composed of 57 LED screens, which displays the status of all ships, including weather, itinerary updates, safety, engine and environmental updates
The design includes an open concept floor plan with sustainable furnishings and ergonomic features, such as blue lighting to minimize eye fatigue, sit/stand desks and carpeting made from recycled fish nets. There are also multiple conference rooms that are linked via video screens to the main LED wall and are intended to be used by support teams that would assist during any incidents.
The FOC will be able to monitor Carnival's 26 cruise ships around the clock in real time. It is the first operations center in South Florida that features a tracking and data-analysis platform enabling real-time information sharing between Carnival ships and specialized shoreside teams designed to support fleet operations.
"In designing the FOC, we combined best practices from the military, government and industry to achieve a generational leap in facility design, sophisticated technology and utilization, creating the largest and most advanced fleet operations center in the industry," said Carnival Cruise Line President Christine Duffy. "Nothing is more important than the safety of our guests and crew, and this new facility enhances our already comprehensive approach to safety and operational excellence."
Christine Duffy (center), William R. Burke (left), and Micky Arison (right) at the FOC demonstration
Along with safety of the passengers, Carnival Cruise Line sees the FOC increasing performance, efficiency, and sustainability. "The FOC brings together real-time information for decision making. Integrated shoreside teams support our shipboard officers to act quickly and decisively while significantly increasing the operational efficiency of our ships," said Gus Antorcha, Carnival Cruise Line's chief operating officer.