Carnival Corp.'s Costa Magica is 24th Ship Sold Since Pandemic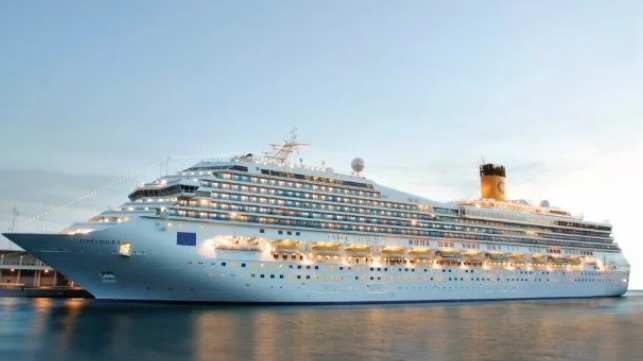 Carnival Corporation continues its efforts to reshape its fleet confirming the long-speculated sale of the Costa Magica from its Costa Cruises brand. According to the ship's AIS signal, she was renamed Mykonos Magic overnight transferring her registry to Bermuda and making her the 24th ship sold or held for sale by the corporation since the onset of the pandemic in the spring of 2020.
No details were being offered on the sale but it is being widely reported that the Costa Magica was acquired by Marios Iliopoulos's SeaJets, a Greek inter-island ferry company. Iliopoulos emerged as a speculator in cruise ship tonnage during the pandemic moving rapidly to acquire five ships from Carnival Corporation in 2020 as well as two from the auction of the fleet of bankrupt Cruise & Maritime Voyages as well as one from Royal Caribbean Group. All the ships have been bought for resale or possible charters with apparently no plans for SeaJets to operate any of the ships. It is believed that they were each purchased near scap value.
To date, SeaJets has only been successful in selling one of its investments for future service. The 1993-built former Maasdam (55,500 gross tons) of Holland America Line is preparing to return to service this spring as the French Renaissance. There had been some rumored sales for two of her sister ships but to date, no deal has emerged. Iliopoulos also purchased the Veendam which was a sister ship to the Maasdam as well as the former Pacific Aria which was another sister ship operating for P&O Australia before the pandemic. Iliopoulos also has the former Oceania from P&O Cruises and the former Majesty of the Seas from Royal Caribbean, but sold the Columbus and Magellan for scrap shortly after acquiring them from the CMV auction.
The new Mykonos Magic will be Iliopulos' largest and youngest cruise ship as well as the largest yet sold by Carnival Corporation. Built by Fincantieri and introduced in 2004, the 102,784 gross ton cruise ship has a sister still with Costa and is based on a design developed for Carnival Cruise Line. Coming up on 20 years, the former Magica was due to extensive survey work and facing increased maintenance requirements due to her age. Carnival Corporation had identified her before the pandemic to transfer to Carnival Cruise Line but canceled that plan in 2022 while later saying she would not return to service. She spent most of her career cruising in Europe with her last season in 2019-2020 sailing from Brazil.
Late in 2022, the Costa Magica was transferred from her Italian registry to the Portuguese flag which sparked further speculation about her fate, while she remained laid up in Brindisi, Italy. Around the same time, Carnival Corporation told investors that they planned to sell two more cruise ships from Costa in 2023 as they worked to rationalize the operation which before the pandemic had a significant presence in the still closed Chinese cruise market.
At the onset of the pandemic, Carnival Corporation had 104 cruise ships with 249,000 berths. Management decided to accelerate a fleet renewal program selling the smallest and oldest ships from across the corporation's eight brands. Included in the sales were six 1990s vintage Fantasy cruise ships from Carnival Cruise Line all sold for scrap while the others were also sold for potential future operations.
Carnival Corporation has continued to take delivery on its orders cruise ship while saying that it anticipates slowing future newbuilds for the foreseeable future. In addition, several vessels have been moved between brands including transferred from Princess Cruises to rebuild the operations in Australia, and three ships that are moving from Costa to Carnival Cruise Line.
After the fleet rationalization efforts, Carnival Corporation today has 90 cruise ships. They currently only have five cruise ships on order plus they are a joint venture partner with CSSC for the launch of a new brand in China that acquired two ships from Costa and is building two ships in China.
Delivery of the Costa Magica leaves only one more ship currently scheduled to be sold. The corporation said two would be sold from Costa while a third ship scheduled to leave operations in 2023 was recently identified as the oldest remaining vessel in the AIDA fleet.