Cargo Ship From Ukraine Raises Suspicion, Declining Romanian Assistance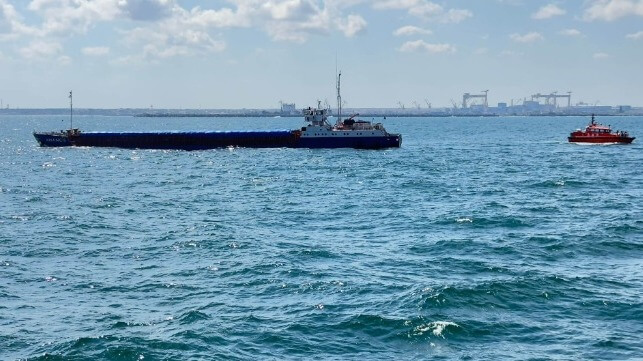 A 45-year-old cargo ship traveling in the Black Sea after departing Ukraine raised suspicions on Sunday after it failed to communicate with Romanian authorities. The Romanian Agency for Saving Life at Sea (ARSVOM) reported that it monitored the ship until it left its territorial waters while its AIS signal now shows the vessel nearing Turkey without further incident. ARSVOM reported that it was requested to intervene with SAR vessels when it was believed the vessel was in danger of sinking.
The Amanos was built in 1978 and according to Equasis is owned and managed by companies in Turkey although it is currently registered in Tanzania. It is a 1,670 dwt general cargo ship and typical of the type operating to the ports on the Danube and the Black Sea.
The vessel's AIS signal shows that it arrived at Izmail, Ukraine two weeks ago and remained there for several days. It later proceeded to the port of Kiliya, Ukraine, also on the Danube before departing on August 21. It is unknown what cargo if any was loaded aboard the ship contributing to the suspicions.
ARSVOM reports it received a call for assistance on Sunday, August 27 as the vessel was moving along the coast near Mangalia in southern Romania near the border with Bulgaria. The report was that the vessel was experiencing buoyancy problems with a possible hole in its bow. ARSVOM dispatched three of its SAR vessels to meet up with the cargo ship. Reports said that there were eight crewmembers aboard the vessel, including two from Turkey and six from Azerbaijan.
The SAR vessels met up with the Amanos anchored about 1.5 nautical miles from Mangalia, but the captain of the Amanos initially refused to communicate with the Romanian SAR vessels. The Turkish-owned ship was refusing assistance.
The captain later responded to the Romanian authorities indicating that he was proceeding to Bulgaria and did not require assistance. He said his crew could handle the damage and minor repairs without their intervention. The Amanos raised anchored and proceeded south.
The Romanian authorities reported that without the vessel's cooperation, they withdrew the request for assistance. However, two of their SAR vessels continued to monitor the ship until it left Romanian territorial waters and then returned to their bases in Mangalia and Constanta.