Car Carrier Goes Adrift, Topples Shipyard Crane in Bremerhaven
On Sunday evening, a car carrier tore loose from its moorings and went adrift in the harbor at Bremerhaven, striking a dock at the Lloyd Werft shipyard and knocking over a crane.
The stern lines of the 750-foot ship ripped free of the pier ar about 2100 hours, taking the bollard with them. The freighter drifted away from the west bank to the east bank of the harbor. When it struck the wharf, it damaged the quay and brought down a shipyard crane.
Overall, there was considerable damage to property, according to the Bremen police force. The value and repair cost is expected to total in the high six figures. Luckily, no one was injured.
After the casualty, the ship was secured by tugs and returned to her original berth.
An investigation into the cause of the casualty is under way, and the police believe that it may be connected to stormy weather at the time of the breakaway. The port experienced a thunderstorm on Sunday night with peak winds of about 25 knots at 2100 - about the same time as the incident.
AIS data and vessel records appear to confirm that the vessel was the Norwegian-flagged Don Quijote. At about 2100 local time on Sunday, the ship's AIS signal made a sudden excursion from a mooring on the west bank of the harbor to the shipyard pier on the east side, then returned to her berth again at about 2230 hours.
As of Monday afternoon she remained in the harbor, according to data provided by Pole Star.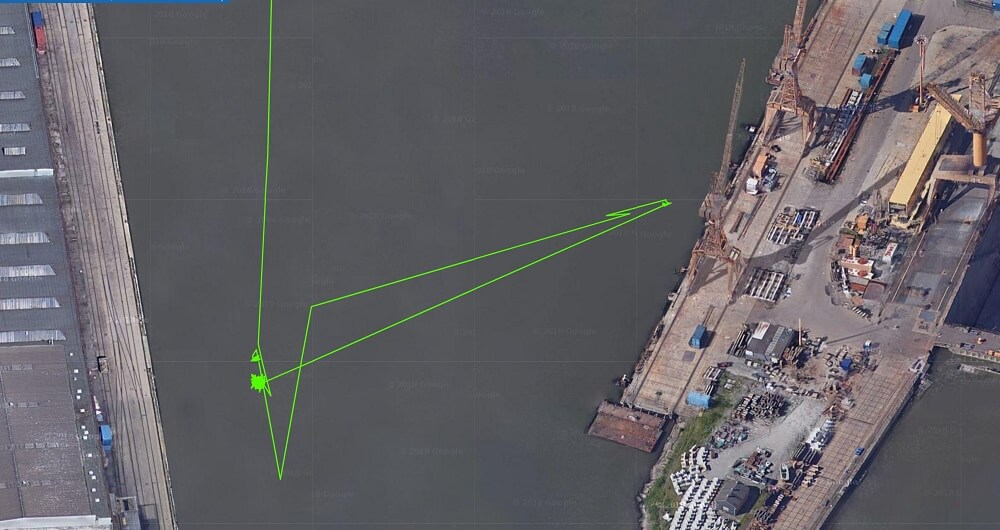 Courtesy Pole Star