Canadian Shipbuilder Seaspan Imports Electric Tug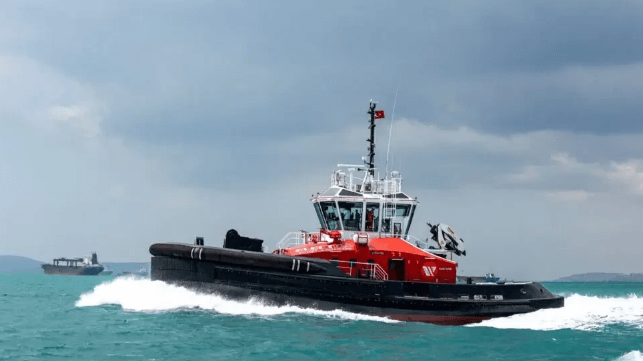 Canadian shipbuilder Seaspan has imported an all-electric tugboat from Turkish yard Sanmar, a well-known shipyard with a global presence and hundreds of harbor tugs to its name.
The new electric tug will be one of three for the new HaiSea Marine fleet. The tugs were designed by prolific naval architecture firm Robert Allan Ltd. and will be owned and operated in partnership with the Haisla Nation.
HaiSea will provide five escort and harbor tugs for the Shell/Petronas joint venture LNG Canada, a 14 million tonne per annum LNG export terminal to the southeast of Prince Rupert. The route will see large LNG carriers transit up the Douglas Channel to and from the isolated port of Kitimat, B.C.
The final module for the facility's construction was delivered in April, and the project is about 80 percent complete. Commissioning and startup are scheduled for 2025, and all going well, the facility could double in size with a second phase of future construction.
The two escort tugs are dual-fuel diesel/LNG powered, and the three harbor tugs will be all-electric. The berth for the tug operation is under construction by a Haisla Nation joint venture, including the docks and a new breakwater, and should be completed in early 2024.
According to LNG Canada, the project has awarded $4 billion in contracts to B.C. businesses out of a total estimated budget of $40 billion, including $3 billion to local and first nations-owned enterprises.
The project's sponsors are also underwriting the construction of a new Marine Emergency Response and Research Facility (MERRF) in Hartley Bay, which will serve as a base for first nation-led marine activities, including rescue operations, training, and environmental research.