Canada, U.S. and Japan Christen Naval Vessels
Over the last week, three new naval vessels have been christened - Harry DeWolf, USS Frank E. Petersen Jr. and Ouryu: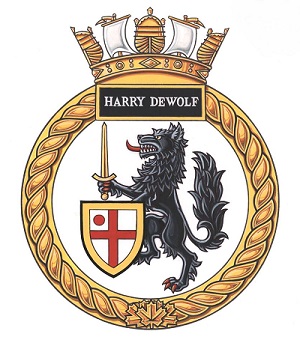 Canada's New Arctic and Offshore Patrol Vessel
The Royal Canadian Navy's newest Arctic and Offshore Patrol Ship was officially named Harry DeWolf on Saturday.
The vessel is the first of Canada's new Arctic and Offshore Patrol Vessels and was built at Irving Shipyard's Halifax Shipyard. At 103 meters (338 feet) and 6,615 tons, Harry DeWolf is the largest Royal Canadian Navy ship built in Canada in 50 years, and she is expected to be delivered in 2019. Construction of the second and third ships, Margaret Brooke and Max Bernays, is underway at Halifax Shipyard.
The new vessels, with a complement of 65, will be capable of armed sea-borne surveillance, including in Canada's Arctic; providing government situational awareness of activities and events in the region. Canada defends more coastline than any other country, as it is bounded by three oceans.
A native of Bedford, Nova Scotia, Vice-Admiral Harry DeWolf was decorated for outstanding service throughout his naval career, which included wartime command of HMCS St. Laurent from 1939-40, and later, his 1943-44 command of HMCS Haida, known as the "Fightingest Ship" in the Royal Canadian Navy.
The announced names of the Harry DeWolf-class ships to date are:
Harry DeWolf (AOPV 430)
Margaret Brooke (AOPV 431)
Max Bernays (AOPV 432)
William Hall (AOPV 433)
Frédérick Rolette (AOPV 434)
More information on Harry DeWolf is available here.
U.S. Navy Christens Guided-Missile Destroyer USS Frank E. Petersen Jr.
The U.S. Navy christened its newest guided-missile destroyer, the USS Frank E. Petersen Jr. (DDG 121) on Saturday.
The vessel is the 71st Arleigh Burke-class destroyer and the fifth of 21 ships currently under contract for the DDG 51 program. The ship will be configured as a Flight IIA destroyer, which enables power projection, forward presence, and escort operations at sea in support of Low Intensity Conflict/Coastal and Littoral Offshore Warfare, as well as open ocean conflict.
Built by Huntington Ingalls Industries, the vessel is named in honor of Marine Corps Lt. Gen. Frank E. Petersen Jr., the first African-American Marine Corps aviator and the first African-American Marine Corps officer promoted to brigadier general. When he retired in 1988 after 38 years of service, he was, by date of designation, the senior-ranking aviator in the Marine Corps and the United States Navy.
The vessel will be equipped with the Navy's Aegis Combat System and will incorporate Cooperative Engagement Capability that when combined with the Aegis Combat System, will permit groups of ships and aircraft to link radars to provide a composite picture of the battle space - effectively increasing the theater space.
The nearly 9,500-ton USS Frank E. Petersen Jr. is 509.5 feet in length, has a waterline beam of 59 feet, and a navigational draft of 31 feet. Four gas turbine engines will power the ship to speeds in excess of 30 knots.
New Submarine for Japan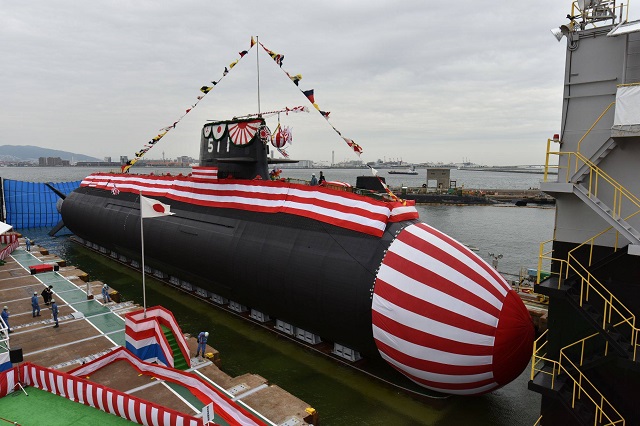 The Japanese Maritime Self Defense Force named the 11th Souryu-class submarine Ouryu on October 4.
The vessel was built by Mitsubishi heavy Industries and will be powered by lithium-ion batteries that have more power than the lead-acid batteries used on other submarines in the class. The 84-meter (276-foot), 2,950-ton vessel will be able to travel at 20 knots and will have a compliment of 65. This is also fitted with air-independent propulsion systems that enable her to remain fully submerged for extended periods.
Japan expects to have 13 Souryu-class submarines operational by 2023.