Canada Deploys Two Naval Vessels to Haiti as Security Crisis Worsens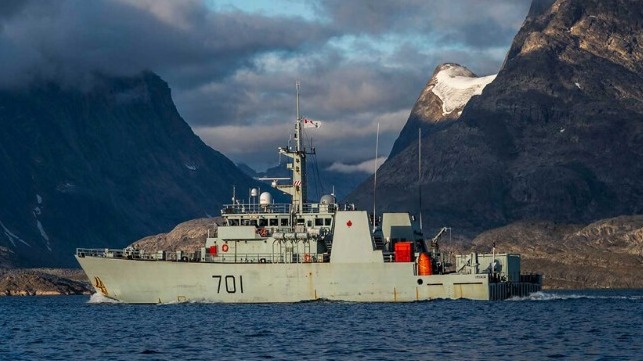 The government of Canada will deploy two Royal Canadian naval vessels off the coast of Haiti in response to the growing national security crisis in Haiti. Canada's Prime Minister Justin Trudeau announced the decision on Thursday during the Caribbean bloc's Head of States conference in the Bahamas.
"Right now, Haiti is confronted with unrelenting gang violence, political turmoil, and corruption. Now is the moment to come together to confront the severity of this situation," Trudeau said.
Ottawa will deploy Kingston-class vessels HMCS Glace Bay and Moncton, with a combined company of over 90 sailors. The naval vessels will conduct presence patrols in and around Haitian waters in the coming weeks, focusing on the vicinity of Haiti's capital city Port-au-Prince. The deployment to the region is expected to provide maritime situational awareness and bolster efforts to establish and maintain security for the people of Haiti.
The Kingston-class Maritime Coastal Defense Vessels (MCDVs) are multi-role vessels with a primary mission of coastal surveillance and patrol. Designed to commercial standards, the Canadian Navy says the vessels were intended to conduct coastal patrols, minesweeping, law enforcement, pollution surveillance, and response as well as search and rescue duties.
Since mid-January, HMCS Glace Bay and Moncton have been deployed to West Africa on Operation Projection. The goal was to build security relationships and capacity with nations in the Gulf of Guinea. The vessels are expected to arrive in Haitian waters in the coming weeks and remain in the region for an unspecified period, according to Canada's Defense Department.
Haiti's descent into chaos accelerated after the July 2021 assassination of former President Jovenel Moise. Gang violence has been on the rise, with the UN last December estimating that over 60 percent of Port-au-Prince was under gang control.
In response, Haiti's de facto Prime Minister Ariel Henry has been requesting an external security force to quell the chaos. The United Nations in October concurred with the position, suggesting that a "rapid action force" be sent to Haiti to supplement the national police.
So far, Canada is collaborating with Haitian authorities, providing intelligence, surveillance, and reconnaissance capabilities. Earlier this month, a Royal Canadian Airforce long-range aircraft conducted two patrol overflights in Haiti.