Bulk Carrier Strikes Moored Bulker at Port of Tarragona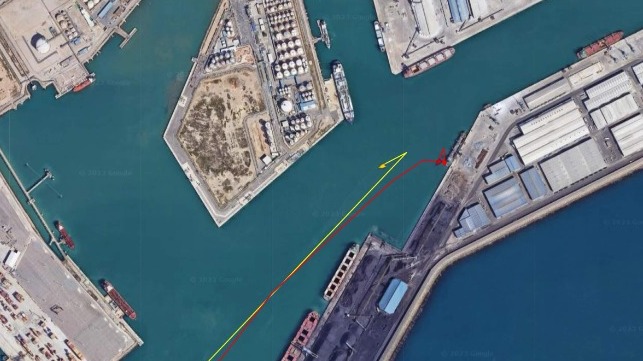 On Saturday, a Panamax bulker struck a moored Kamsarmax amidships at the port of Tarragona, Spain, resulting in substantial damage to the vessel alongside the quay.
The 80,000 dwt bulker Karpaty arrived at Tarragona early on the 14th of June and berthed in the inner harbor. On the 17th, at about 1230 hours, the 75,000 dwt Elena Ve arrived in Tarragona on a voyage from Ukraine, carrying a full load of corn. She entered the harbor and approached Karpaty. As Elena Ve maneuvered in preparation for berthing, her bow allided with the moored vessel's port side.
Photos from the scene show that the Karpaty sustained serious hull damage amidships. According to local media she is intact below the waterline and in all machinery spaces, and is stable and in no risk of further harm. The Elena Ve appears to have sustained limited damage to the bulwarks on her starboard bow.
No injuries or pollution were reported.
After the allision, the port activated its contingency plans, but no emergency response effort was required. With the assistance of harbor tugs, Elena Ve transited to a nearby berth for an inspection, and an investigation is ongoing.
Elena Ve is a 2010-built Panamax bulker of 75,000 dwt. A port state control inspection in June 2022 unearthed a long string of deficiencies on board, including propulsion and auxiliary engine issues, fire safety shortcomings, and bulkhead cracking.