Box Fire Doused on Maersk Ship as Reports Suggest an EV was Involved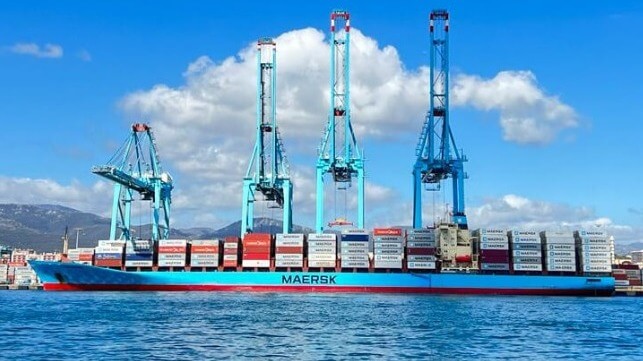 The Hellenic Coast Guard is reporting that a small fire aboard a Maersk containership has been resolved but the vessel remains docked in the port of Piraeus awaiting inspections before resuming its voyage. While the fire appears to have been limited to a single container, questions are being raised after reports in the Greek media suggested that the container was transporting a used electric vehicle.
The Luna Maersk, a 63,395 dwt containership registered in Hong Kong, has a capacity of 4,258 TEU. The vessel was loading in Piraeus, Greece on Monday, October 2, and then departing for Thessaloniki, Greece. It operates on a route arriving from Algeciras, Spain, and before that Tanger Med, Morocco. The ship, which has a crew of 26, departed late on Monday loaded with 1,517 containers.
According to the reports from the Joint Search and Rescue Coordination Center of the Hellenic Coast Guard, the vessel was sailing in the Aegean approximately 12 nautical miles north of the island of Kea, when the master reported that there was a fire aboard. They were not requesting assistance but it was determined that the vessel should return to Piraeus. Two patrol boats from the Coast Guard were sent to meet up with the containership.
The crew commenced cooling the container and the surrounding area with fire hoses but later reports said a fire boat was also sent to meet up with the ship and escort it to Piraeus. Pictures in the Greek media show multiple fire hoses dowsing the containers at the rear of the ship behind the deckhouse.
The Luna Maersk docked in Piraeus and the affected container was removed and placed in a safe storage area where fire teams continued to dowse it with water. Inspectors were planning to open the container and visit the vessel.
Greek news outlet Naftemporik is reporting that a review of the manifest for the Luna Maersk suggests the container was transporting a used electric vehicle. The Central Port Authority of Piraeus is conducting a preliminary investigation and could not confirm the contents of the container. They said the ship was being held in Piraeus until it could be inspected and receive clearance from class to resume sailing.