BOEM Completes Environmental Review for Coastal Virginia Offshore Wind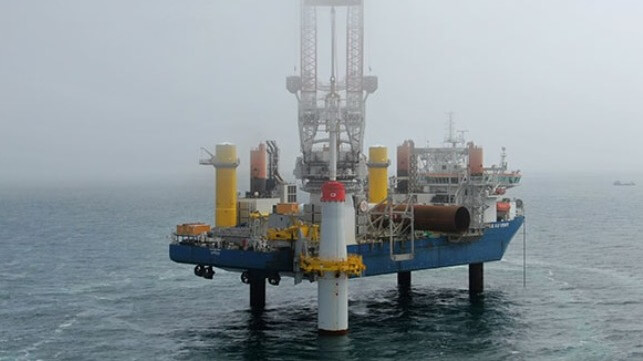 The Bureau of Ocean Energy Management has completed the final environmental impact statement (EIS) for Dominion Energy's massive Coastal Virginia Offshore Wind project, a proposed 2.6-gigawatt installation off the coast of Virginia Beach. It is a significant regulatory milestone and marks the end of the environmental review process for the project.
"Regulated offshore wind has many benefits for our customers and local economies – it's fuel free, emissions free and diversifies our fuel mix to maintain the reliability of the grid," said Bob Blue, Dominion Energy's chair, president and CEO. "Today's announcement reinforces the confidence that the company, our vendors and our suppliers have in our project's completion, providing further motivation to maintain focus on delivering on time and on budget."
The EIS process is an extensive, years-long review, and incorporates stakeholder consultations, engineering studies and layout designs to minimize the project's impacts on other users and the environment.
Under the final plan, Dominion intends to install 176 14.7-megawatt turbines and three offshore substations on a lease area spanning 112,000 federal acres, about 27 miles off the coast. When completed, CVOW will produce enough power for 660,000 homes and save $3 billion worth of fuel over the course of its first 10 years of operation, according to the utility. The project is already supporting about 750 jobs, with more expected when construction begins.
Dominion says that Coastal Virginia Offshore Wind is running on time and on budget, an achievement for an offshore wind venture in the current economic climate. It plans to bring in a minority equity partner in to "de-risk" the project and bring in a new source of capital.
Dominion says that CVOW is different because it is a state-regulated project with a mandate from Virginia's legislature. According to Blue, this allows Dominion to take a different approach than non-regulated developers. The firm was able to secure agreements with suppliers for materials and services early on, and give them extra assurance that the project would be completed. "This allows our vendors to maintain focus on delivering their equipment and services on time," he said earlier this month.
Dominion's suppliers include Crowley, Esvagt and Fincantieri, who are designing and building a Jones Act service operation vessel (SOV) for CVOW. Fincantieri Bay Shipbuilding held a keel-laying ceremony for the new ship last week.
Dominion has also contracted with Keppel AmFELS for the construction of a Jones Act wind turbine installation vessel (WTIV), the first of its kind. This high-spec ship, dubbed Charybdis, is reportedly running behind schedule and about $125 million over budget.
The firm also moved early in procuring turbines, the costliest components of the project. It locked in a contract for 176 giant turbine units from Siemens Gamesa back in 2021 - two years before inflation in the supply chain began to threaten the economics of offshore wind development.