BIMCO: Ordering Collapses At Japanese, Korean Yards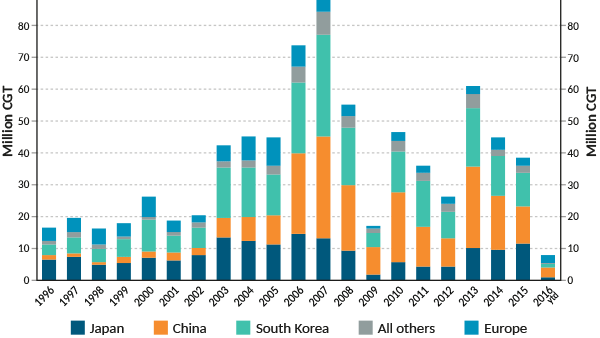 In a statement released Monday, BIMCO said that shipbuilding orders have fallen to the lowest level in two decades.
"Since the high contracting in 2013, BIMCO expected the shipyards could come under pressure. This expectation became a reality at the start of 2016, with the first quarter contracting the second lowest [by compensated gross tonnage] in 20 years," said chief shipping analyst Peter Sand.
Tanker and container ship ordering led the decline, both down about 80 percent worldwide.
By nation, Japanese and South Korean yards are the worst hit by far, suffering a nearly complete collapse in ordering activity with the loss of 86 percent of their new business volume by CGT (compared with the same period last year). China lost about half.
Further, BIMCO notes that many of the vessels already on order at Chinese and Japanese yards are for stressed markets – dry bulk, container and offshore – and vulnerable to delay or cancellation. This affects the transfer of a shipowner's heavy-tail final payment, which can amount to the great majority of the yard's revenue from each ship.
As measured by order cover – the number of years that a yard expects to be busy with the orders it already has – European shipbuilders are actually picking up business, adding a full two years of cover since 2014. European yards are a small segment of shipbuilding, BIMCO notes, and are generally in the business of higher-margin passenger and specialty vessels.
By contrast, South Korean yards' expected business is in marked decline, with less than two years on average before the full inventory of orders is delivered. Japanese and Chinese order backlogs are also falling, and Sand says that if current conditions persist, "this will look even more severe next year."
There is an upside, though – if not for shipyards. "A low level of contracting is exactly what the shipping industry needs in order to eventually restore the fundamental balance between supply and demand," he said.