Beijing Protests After U.S. Navy's First Taiwan Strait Transit of 2023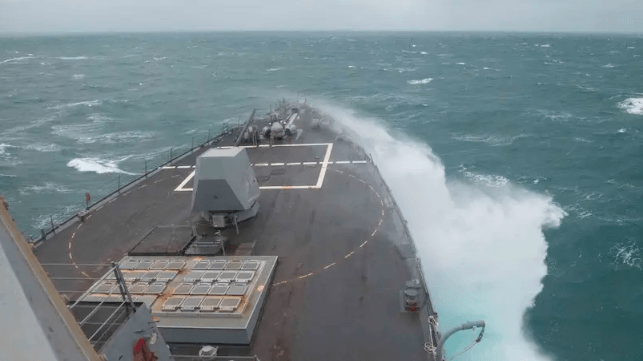 On Thursday, the Arleigh Burke-class destroyer USS Chung-Hoon made the U.S. Navy's first Taiwan Strait transit of the year, demonstrating U.S. support for Taiwan - and drawing objections from Beijing.
"U.S. warships frequently flex muscles in the name of exercising freedom of navigation," a spokesperson for the Chinese embassy in Washington told the AP. "China will continue to stay on high alert and is ready to respond to all threats and provocations at any time, and will resolutely safeguard its national sovereignty and territorial integrity."
Cross-strait tensions have been high for years, but the war of words ramped up to new levels after then-U.S. Speaker of the House Nancy Pelosi visited Taipei in October. China responded by launching record-setting military drills with multiple destroyers, dozens of aircraft and ballistic missile launches into waters around Taiwan. In December, the FY2023 National Defense Authorization Act added to Beijing's anger by allocating $2 billion in new military equipment financing for Taipei.
Chinese President Xi Jinping has put the "reunification" of Taiwan at the top of his agenda, and his administration has not ruled out the use of force. According to a recent poll of Western geopolitical scholars by the Council on Foreign Relations, a "severe cross-strait crisis" ranks as the most troubling potential conflict risk of the year.
The U.S. Navy continues to dispatch regular freedom of navigation operations (FONOPs) through the Strait, as has been its practice for many years, and U.S. 7th Fleet confirmed Thursday that Chung-Hoon carried out the latest transit.
"USS Chung-Hoon (DDG 93) conducted a routine Taiwan Strait transit . . . through waters where high-seas freedoms of navigation and overflight apply in accordance with international law. The ship transited through a corridor in the Strait that is beyond the territorial sea of any coastal State," 7th Fleet said. "Chung-Hoon's transit through the Taiwan Strait demonstrates the United States' commitment to a free and open Indo-Pacific."
USS Chung-Hoon is a 2004-built Arleigh Burke-class destroyer named after Rear Admiral Gordon Pai'ea Chung-Hoon, a decorated WWII commander who became the Navy's first Asian-American flag officer. In 2006, when relations between Washington and Beijing were more cordial, USS Chung-Hoon became the first U.S. Navy vessel ever to conduct a comms and passing exercise with a Chinese PLA Navy warship, according to Xinhua.