Beatings, Mutiny, Indifference in Taiwan's Seafood Industry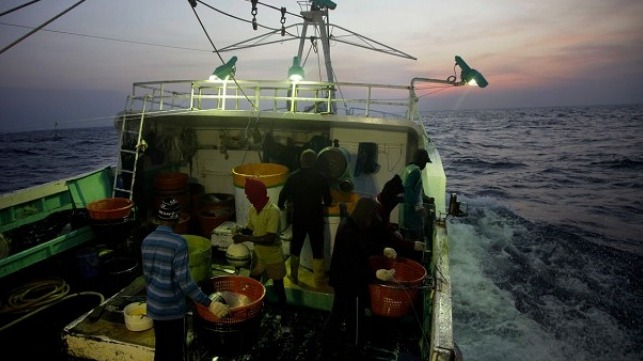 There is high probability that seafood harvested in operations involving human rights abuses is making its way on to dinner plates in Asia, Europe and the Americas, says Greenpeace East Asia.
"Conducted over the course of more than a year, our investigations show that Taiwan's fishery supply chain is still tainted by human rights abuses, despite the law change in early 2017 to protect migrant fishers on Taiwanese vessels," said Yi Chiao Lee, Global Investigation Lead for the report Misery at Sea.
In the Greenpeace East Asia report, investigators from Taiwan and New Zealand found five members of the convicted human trafficking ring, Giant Ocean, living openly in Taiwan. Despite being considered fugitives, at least some of the individual members continue to be involved in the recruitment of migrant workers, predominantly from South East Asia, for Taiwanese fishing vessels, with the full knowledge and negligence of Taiwanese authorities.
In evidence provided by local Taiwanese labor rights group, Yilan Migrant Fishermen Union, new photo and video material was uncovered relating to the death of Indonesian fisherman, Supriyanto. A healthy and relatively young man, Supriyanto died in agony just four months after starting work on the Taiwanese vessel, Fu Tsz Chiun. The images show Supriyanto had been beaten and abused, yet Taiwanese authorities failed to properly investigate his death, and there was no prosecution. Despite his deteriorating condition, satellite data reveals that Fu Tsz Chiun continued with its business operations, including in the days immediately following his death. Taiwan's Fisheries Agency claims he simply died from sickness.
There were two deaths on board his vessel within a month, a considerable body of evidence suggesting severe physical abuse, and indicators of forced labor, yet Taiwanese authorities failed to properly investigate the deaths, the vessel owners or the recruitment agencies responsible for providing crew to the vessel.
In another investigation, prison-based interviews shine a new light on the 2016 murder of the Captain of the Vanuatu-flagged Taiwanese owned vessel Tunago No. 61. Speaking with the six convicted crew members, Greenpeace investigators learned that in the days and months leading up to the Captain's murder, the crew was frequently forced to work 20 hours a day and seven days a week, faced repeated physical violence and verbal abuse, sleep deprivation, lack of adequate sustenance, discrimination, and were scared for their lives.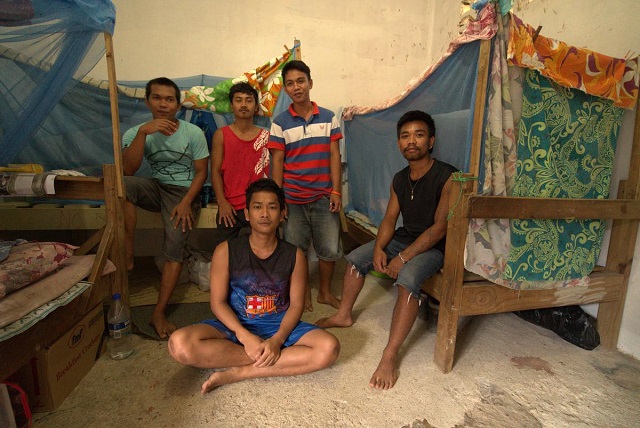 One of the men convicted of the Captain's murder told Greenpeace:
"I just wanted to do my work. One day, there was an accident, I got a wound because a part of my body had been cut and torn open by the hook. I was still not angry at that time, because it was just a small accident. After that, when he [the captain] woke up, I did not understand what was the matter with him, he changed, he said….'alarm'….'beep beep'…. then we have to wake up, if we are still sleeping, eating, or doing anything else, then just go home. I don't understand why he was like that.
"One day, I did not do anything wrong, but he went to our room and kicked all the boys in my room. He came to our room, and then he started to kick everybody inside the room. Every night, sometimes I just had one hour to sleep. He said 'stay here' and then I had to look around, in case if there was something wrong, I have to report it. But I cried, I only have one hour to sleep. I wanted to go back home. The treatment is not humane.
"For food, because we are all Muslim, we are not allowed to eat pork, but we always get pork for the meal. But we did not have any choice if we do not eat the pork, we would not have any energy to work again.
"There was a day, one of the crew got wounded by the hook. Others said he had to take a rest, but he still had to work. He got the wound in the afternoon, but he had to work again in the middle of the night.
"Every time, during the working time, sometimes when we took a rest or sleep, he will change the working time. Sometimes when we got sick, when I did not have any energy to work, but the captain still forced us to work. 'F*** you…go to work!'
"I asked him for a medicine, he still asked me to continue my work and slapped my head. He told my friend, do not ask about it again. And he kicked me. The captain also said to me, 'if you come to ask for the medicine again, I will kill you.'"
Misery at Sea analyzes Taiwan's low-cost business model and the regulatory framework which helps create an environment where cases of illegal, unreported, and unregulated fishing, human rights violations and labor abuse occur.
In 2015, Taiwan was given an E.U. "yellow card" warning for its insufficient cooperation in combating IUU fishing, which defies international standards. In September, E.U. officials will review Taiwan's status and decide whether to lift the warning.
The report is available here.