Bath Iron Works Gets New Labor Agreement, Without Discord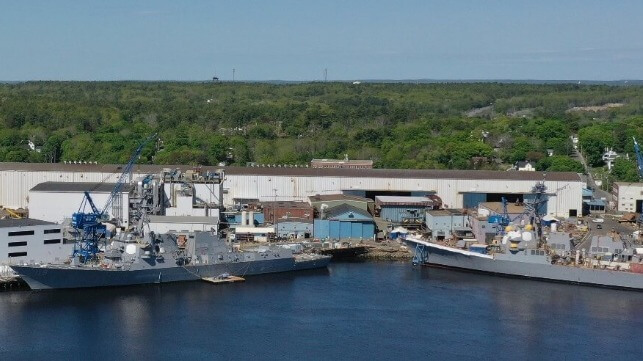 When the largest union for workers at Bath Iron Works sought to negotiate a new contract in 2020, it launched a two-month strike to secure the elements that were at the top of its priority list, like restrictions on using subcontractors. This year, the negotiation was much easier, and the terms were much more favorable too - including the biggest percentage pay raise the union has ever secured.
The continuity of workflow was part of the reason. BIW is one of the two shipyards that build the U.S. Navy's Arleigh Burke-class destroyers, and its operations are an important part of the service's push to grow the surface fleet. Work was disrupted by the arrival of the pandemic in 2020; under previous management, the yard pushed to bring in subcontractors and shake up seniority rules in an attempt to get back on track. That push was unpopular among the unionized workforce, and was partly responsible for the strike. BIW was behind schedule by about six months before the 2020 labor action, and the walkout set work back by over 60 days more.
The delays at BIW have cost the yard contract volume. In the latest round of Arleigh Burke-class block buys, competitor Huntington Ingalls received orders for six hulls, and BIW took home just three. Keeping operations running and meeting the delivery schedule are top priorities for the yard and its Navy customer, and BIW's current management has made clear that it wants smoother labor relations.
Throughout this year's negotiations, BIW leadership said that it has no plans to bring in subcontractors, dodging a key sticking point from the last round. It agreed to generous raises of up to nine percent in the first year, five percent in the second and four percent in the third. Pension and healthcare benefits have also been increased.
"This agreement represents our desire to continue working together to deliver the Navy's ships on time to protect our nation and our families," BIW said in a statement. "We appreciate our employees' participation in the process."
On Sunday, the union's rank and file voted to accept the deal by a margin of 72 percent. "We will continue working," said Local S6 in a brief statement.
Higher wages will benefit current employees, but will also make BIW more competitive in a tight hiring market. The company has dozens of unfilled positions for shipfitters, pipefitters, electricians, machinists, painters and other front-line roles.