BASF Chairman Claims Chinese Offshore Wind Turbines are "Better"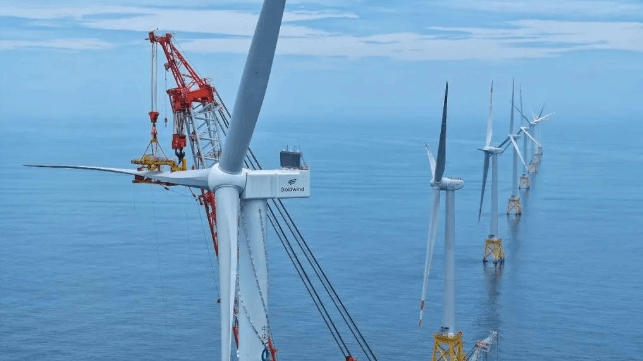 The German industrial conglomerate BASF is a giant in the world of chemicals, and operates some of the largest and longest-running chemical parks in the world. It is so big that it can build utility-scale green power projects to power itself, and it has created an in-house subspecialty in wind farm development. The 1.5 GW Hollandse Kust Zuid offshore wind farm off the Netherlands will send half its output to BASF plants in Europe, and the 0.5 GW Zhanjiang wind farm off Guangdong will send all of its power directly to a new BASF chemical park. So when BASF chairman Martin Brudermüller told reporters that he prefers Chinese offshore wind turbines, he caught a good deal of attention - and criticism.
"The Chinese are technically better than us, and they are also more cost-effective than us," Brudermüller told Frankfurter Allgemein last week, speaking of turbine manufacturers in the EU and in China. "There is a political discussion that wind power should not be the next [EU] technology to go away. I would tend to say: It's already gone."
Chinese turbines are generally about 20 percent cheaper, according to industry insiders. Buyers benefit from China's lower manufacturing costs, government support, economies of scale and intense domestic price competition.
While market leading European turbine maker Siemens Gamesa is taking a $2.4 billion financial hit for quality issues this year, Chinese turbine firm Goldwind has seen its profits plummet for the opposite reason: Goldwind reports that it has put so much money into R&D and has cut its prices so deeply that it has left little for its own margins. Both companies are unprofitable, but Goldwind's customers are pocketing savings.
According to Brudermüller, developers who buy wind equipment in China might also enjoy higher quality. "Take a really close look at it on site. They have simply become good with their products," he said of Chinese turbine builders.
WindEurope, the industry body for EU equipment makers, pushed back on this notion in comments to Recharge. CEO Giles Dickson told the outlet that he was "very surprised" by the BASF chairman's remarks.
Siemens Energy CEO Christian Bruch, head of Siemens Gamesa's parent company, told analysts in an earnings call this week that Western companies like his do not generally have access to the Chinese offshore wind market. He suggested there should be controls on how much access Chinese competitors have to the EU market in order to create a level playing field.
"We can keep pace with the Chinese and even beat them on the international level if we have the right solutions available to us," he said.
Yesterday, Siemens Energy secured $12 billion in bank guarantees to support completion of its backlog of customer orders, backed by $8 billion in guarantees from the German government. S&P has downgraded the company's debt to BBB-, one step above "junk bond" status, and the government support will ensure that it has access to financing for its production plans.