Autonomous Electric Boat Self-Docks With Power Charging Buoy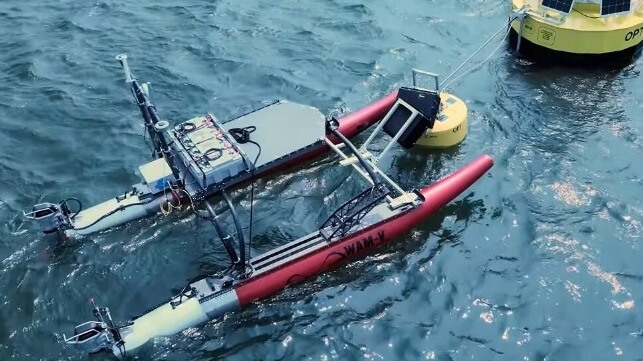 Autonomous electric boats could change how security patrol and survey work gets done in seaports, waterways and offshore oil and gas. But how would these vessels recharge on their own, without human intervention? Ocean Power Technologies has come up with one answer: a charging buoy with a docking module. The company has conducted its first real-world demonstration of the system, it announced last week.
Last week, OPT said that it had successfully tested the connection of its autonomous catamaran concept - WAM-V - attaching itself remotely to a charging buoy without human assistance.
"Our successful demonstration of a WAM-V remotely attaching itself to a buoy that will enable establishing a charging connection is a defining moment for OPT and the maritime technology sector as a whole," said VP of Sales Matt Burdyny after the presentation. "This achievement underscores our commitment to reshaping autonomous maritime operations by leveraging renewable energy for sustainable charging solutions."
The concept marries two of the company's core technologies. OPT's PowerBuoy generates electricity from wave action in any ocean depth from 20 to 3,000 meters, using this natural power source to charge up a battery bank. The batteries help keep energy supplied during periods of flat calm. It has been tested by the U.S. Navy off the East Coast in a security application.
OPT's WAV-M boat concept would use the PowerBuoy's power supply to run an on-site, permanently stationed, self-charging autonomous survey boat capability. The sensor platform has a built-in suspension for rougher conditions, and OPT says that it is capable of handling more severe sea states than other comparably-sized vessels. It is building up a fleet of in-stock vessels for leasing, which accounts for about a third of the company's business.