Australian Man Arrested for Threatening Tug Crew, Ramming Police Boat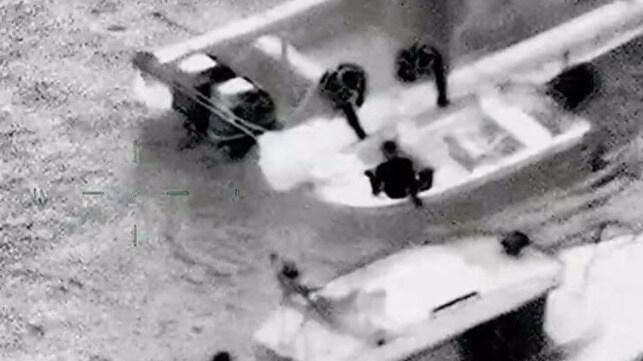 Australian police have arrested a man who allegedly attempted to hold up the crew of a tugboat with a rifle, then launched a high-speed chase when the authorities responded.
The incident occurred Sunday night off the coast of Kwinana Beach, a suburb south of Perth in Western Australia. At about 1830 hours, a man approached a tug in Kwinana's port area and allegedly pointed a gun at the crew.
The 48-year-old suspect allegedly fled the scene in an aluminum dinghy and collided with a police response boat while trying to escape.
A bystander captured the chase on scene, and it shows a speedboat making a straight course towards a brightly-lit police boat. The dinghy appeared to hit the police vessel towards the stern, then fly up into the air. Miraculously it landed right-side up and maneuvered quickly away in the opposite direction.
About one hour later, at a position near the bridge to the military base on Garden Island, the suspect stopped the boat and gave himself up for arrest.
"Thankfully no one was injured in this incident, which was largely dynamic and confronting [sic]" said Western Australia Police Inspector Geoff DeSanges at a press conference.
The firearm that was described to police in the initial distress call has not been recovered, he said. Police divers are searching the bottom in the area where the holdup occurred in hopes of finding the gun.
The suspect has been charged with "unlawful act or omission with intent to harm," as well as "being armed in a way that may cause fear." He has been released on bail, according to local media.