Australia Readies Team for Solomon Trader Spill Response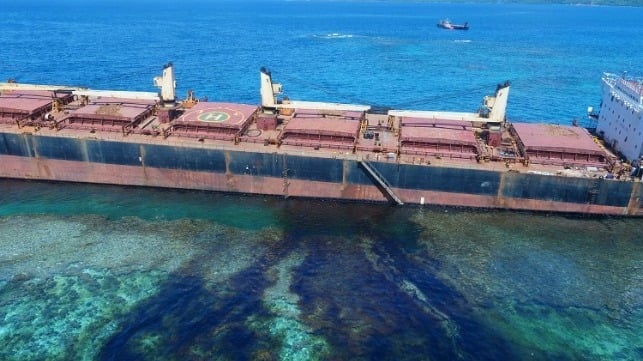 The Solomon Islands government has asked Australia's assistance in response to the escalating ecological damage caused by the oil spilling from the grounded bauxite bulk carrier MV Solomon Trader.
The vessel ran aground on February 5. Fuel spilling from the vessel has spread for hundreds of meters along a coral reef on the coast of Rennell Island. The estimated size of the spill now sits at 75 tons out of a maximum 600 tons on board, and the Solomons government has acknowledged that it does not have the capacity to cope with the incident on its own.
Australian experts from the Australian Maritime Safety Authority (AMSA) deployed last month to assist the Solomon Islands Government. Australia is now mobilizing an offshore pollution mitigation operation, including equipment, vessels and specialized personnel, under the leadership of AMSA and working alongside the Solomon Islands government's own efforts.
The Solomon Trader went aground during Cyclone Oma. The mine site is operated under contract by Bintan Mining Corporation (BMC), an Indonesian firm, which chartered the vessel from a Hong Kong-based shipowner South Express. BMC maintains that it has no liability arising from the spill, as it is not the vessel operator.
BMC's critics have questioned why the Kangava Bay mine site kept loading cargo when a cyclone warning was in effect, given the hazards posed by the reef and the severity of the storm. Concerns have also been raised that ships coming to the mine since the spill are causing the oil to spread. It has also been alleged that the vessel may have run aground because there may not have been enough crew members on night watch despite the cyclone warning.
The speed of containment and salvage operations has also been criticized as being too slow. The government of the Solomon Islands asserts that the charterer and shipowner bear the primary responsibility to salvage and mitigate any spill.
"Australia continues to stand behind the Solomon Islands Government's efforts to ensure that commercial parties responsible for this incident take action and are held responsible," said Minister for Foreign Affairs Marise Payne. "Australians and our neighbors across the Pacific know the economic and environmental importance of our oceans. We expect companies operating in our region to meet international standards and take seriously their environmental obligations."