Australia Considers Joint Maritime Patrols With the Philippines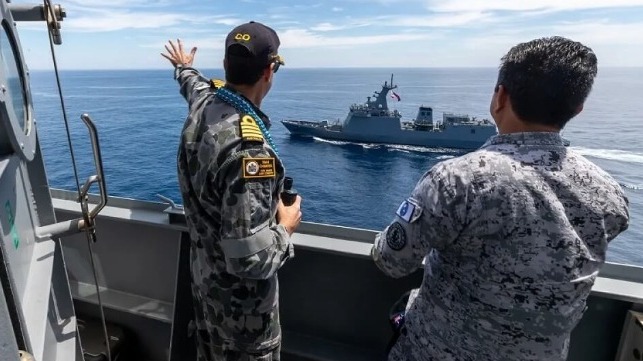 Australia is considering the possibility of conducting joint maritime patrols with the Philippine armed forces in the South China Sea, according to defense minister Richard Marles.
"We did talk today about the possibility of exploring joint patrols and we will continue that work and we hope that comes to fruition soon," said Marles at a press conference in Quezon City, home of the Philippines' defense department. "As countries which are committed to the global rules-based order, it is natural that we should think about ways in which we can cooperate in this respect."
The news mirrors an earlier announcement of an expected agreement on joint patrols beween the Philippine Coast Guard and the U.S. Coast Guard. On Monday, senior PCG advisor Commodore Jay Tarriela told CNN that there was "a certainty for [these] particular joint patrols to happen."
"There is already clear path of possibility since the defense department of the United States has also supported the joint patrol with the Philippines Navy and the U.S. Navy," he added.
During a visit to Manila on Wednesday, U.S. Chief of Naval Operations Adm. Mike Gilday confirmed that the United States is "committed" to resuming joint maritime patrols with the Philippines. He told reporters that the plan is "in the beginning of the planning stages," but that "in principle that we need to move forward, focused and with speed."
Rising tensions
China, which claims a large swathe of the Philippine EEZ, has "aggressively" pushed back on Philippine interests in the Spratly Islands, according to the PCG. Tensions in the area have been running high: At Second Thomas Shoal, where the Philippine Navy maintains a small garrison, a China Coast Guard cutter allegedly used a military-grade laser to chase off a Philippine supply convoy earlier this month. China denied any improper behavior, but the Philippine Coast Guard called it "a clear violation of Philippine sovereign rights."
China's "gray zone" operations in disputed areas of the South China Sea have visibly increased over the past year, according to the Washington-based CSIS Asia Maritime Transparency Initiative. The China Coast Guard's patrols near contested areas have risen in frequency, based on commercial AIS data, and are likely even more pronounced given the service's tendency to run "dark" at times, according to AMTI. At Scarborough Shoal, a site of frequent confrontation between Chinese forces and Philippine fishermen, one or more CCG cutters were on station nearly every day of the year last year.