Australia Bans Second Briese Heavylift Ship in Ongoing Safety Effort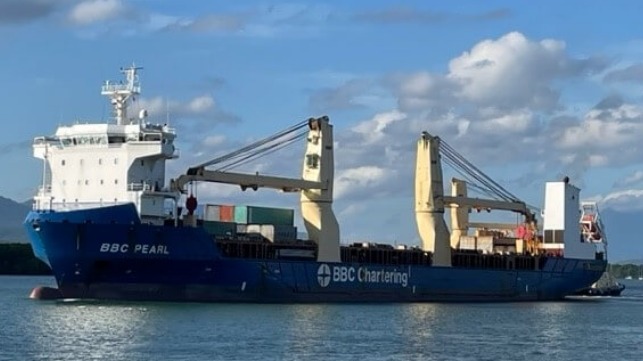 Australia is continuing what its safety authority is calling "a crackdown on unsafe and unseaworthy vessels," issuing the fifth ban on a vessel, and the second on a vessel operated by Briese Heavylift, in 2023. The Australian Maritime Safety Authority (AMSA) notes that Australia has a reputation for upholding high safety standards for vessels entering its waters.
The latest ship to receive a ban from Australia is the BBC Pearl, a 14,400 dwt multipurpose heavy lift vessel managed by Briese Heavylift. Built in 2012, the 503-foot vessel is registered in Antigua & Barbuda.
AMSA reports that it conducted a port state control inspection in Cairns after the vessel arrived on June 24 following a voyage from Europe. During the inspection, AMSA reports it found multiple failures of the safety management system as well as a defective emergency generator and defective fire dampers. The vessel was detained for four days to rectify the deficiencies and then proceeded to Port Hedland where the banning notice was issued. The vessel departed Australia on July 9.
"The defective emergency generator would render the vessel helpless in the event of a main power supply failure. This is the second time the BBC Pearl has been detained for a defective emergency generator," said AMSA Executive Director of Operations Michael Drake. He called the violations on the BBC Pearl alarming, noting "These are clear violations of the International Convention for the Safety of Life at Sea."
The inspection is part of a compliance order imposed against Briese in April 2023 by Australia. All the company's ships are eligible for inspection every three months until at least April 2024 under the current order. AMSA contends the operator has a history of poor performance, with multiple warnings that future safety violations would lead to strict enforcement action. In June, the regulators said that one in five of Briese's ships has been detained in Australia since May 2021, a rate is more than three times the average for ships visiting Australian waters.
"We have imposed a longer ban of 180-days on the BBC Pearl to send a clear message to any poor-performing operator that Australia finds these conditions to be unacceptable," said Drake.
In June, AMSA issued a 90-day ban for the company's BBC Weser with inspectors reporting that they had found an unsafe and unseaworthy condition that posed an unacceptable risk to Australia's marine and coastal environments. Inspectors found a significant number of ballast air vents onboard were defective.
Currently, AMSA reports it has a total of 17 shipping companies on its list for compliance reviews. Since the start of 2023, they have issued bans for five ships which compares with two bans issued in all of 2022 and four bans issued in 2021.