Austal USA Appoints Third President in Three Years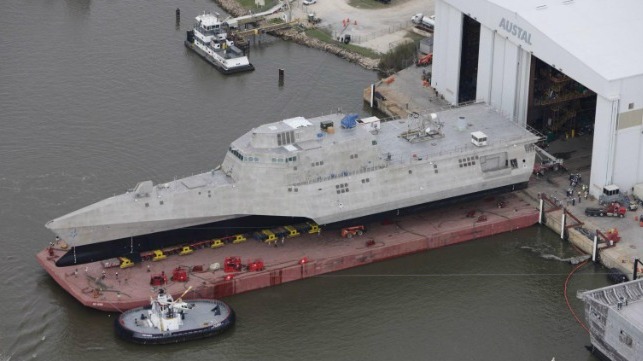 Gulf Coast naval shipbuilder Austal USA is getting its third president in three years, capping a period marked by cost accounting issues and a federal prosecution.
Austal USA announced Tuesday that its president, Rusty Murdaugh, will be departing immediately. Murdaugh, who took over as interim president in 2021 when then-president Craig Perciavalle was ousted, will be replaced by acting president Michelle Kruger effective today. Kruger currently serves as the company's VP of global services and support.
"Rusty made a lasting impact on the company," said Paddy Gregg, CEO of Australian parent company Austal Ltd. "The transformation and growth of Austal USA under his leadership has postured the company for the future with a diversified and balanced portfolio. Rusty is leaving Austal USA with unlimited growth potential and we thank him for all his hard work and dedication over the last two years."
In his two years as president, Murdaugh oversaw Austal USA's expansion into steel-hull construction, shifting away from the firm's exclusive focus on aluminum-hull ships in order to meet the U.S. Navy's need for more survivable, robust vessels. With a $50 million subsidy from the Department of Defense, Austal USA added a state-of-the-art steel panel line and began winning defense contracts. The company holds orders to build the Navy's T-AGOS surveillance ships and T-ATS fleet tugs, as well as the U.S. Coast Guard's rebid Offshore Patrol Cutter program. Austal USA is also among the contenders for follow-on yard status to build Constellation-class frigates, in parallel with lead yard Fincanteri Marinette.
However, Austal USA admitted last month that it had underbid the T-ATS tug contract because it made "inaccurate assumptions" about time and cost for operating its brand-new steel construction line. Inflation and mid-build change orders added more costs, and reporting issues delayed accounting for these problems, eventually forcing a trading halt and a deep cut in Austal Ltd.'s EBIT projections.
It was the second time since 2013 that cost overruns associated with a U.S. Navy shipbuilding program went underreported at the Gulf Coast yard, resulting in an eventual markdown of profit expectations and a drop in Austal Ltd.'s stock price. (Unlike the previous round of accounting issues in 2013-16, no fraud has been alleged in the firm's latest reporting problems.)
"It is clear that we need to make changes to some reporting structures and processes so that Austal USA can identify and rectify these sorts of issues in a more timely manner," said Gregg in a statement last month.
Murdaugh's predecessor, Craig Perciavalle, has been indicted on charges of accounting fraud in connection with alleged financial misreporting in 2013-16. Perciavalle and two other former Austal USA executives stand accused of manipulating an accounting metric known as "estimate at completion" (EAC) for the littoral combat ships that Austal USA was building during the period. According to charging documents, reducing the EAC metric inflated the reported earnings of Austal Ltd., misleading shareholders. Austal Ltd. admitted the cost overruns in 2016, resulting in an unexpected full-year loss of $120 million, down from a profit of $86 million the year before.