Shots Fired at Yacht off Yemen is Possible "Incident" with Coast Guard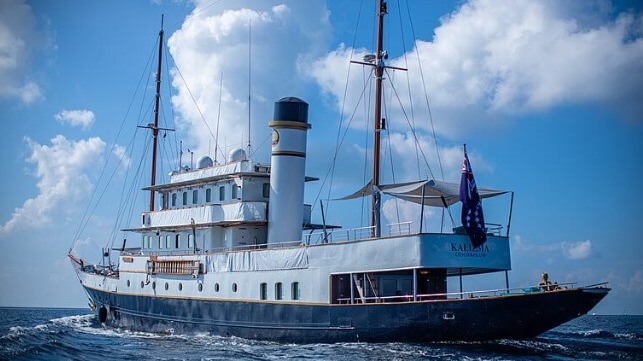 A famed private vessel, reported to be the oldest motor yacht in the world operating today, came under fire off the coast of Yemen in what was originally reported by monitoring agencies as an attack but later downgraded to an "incident." Conflicting reports are saying the vessel was being pursued by pirates 18 nautical miles south of the port of Nishtun, while other analyses of the events are now saying it appears to have been a misunderstanding and a case of "friendly fire."
The vessel is being identified as the Kalizma, an approximately 165-foot vessel built in 1906 and once owned by celebrity actors Richard Burton and Elizabeth Taylor. Today, the vessel has been refitted and operates as a luxury charter yacht wintering in the Maldives and summers in the Mediterranean. It is listed on yacht sites as having five cabins, accommodations for 10 to 12 passengers, operated by 10 crew, and offered at rates of up to €135,000 (approximately $150,000) per week. The vessel is listed as having a top speed of 10 to 12 knots.
The United Kingdom Marine Trade Operations (UKMTO), a Royal Navy operation to provide maritime security information, issued an alert early on April 28 of an ongoing attack saying that shots had been fired. They said there were reports of three skiffs each with three to four people attacking the vessel. Later, UKMTO downed graded its report saying it was an "incident confirmed by authorities as government agency activity."
Reports are suggesting that three private security guards aboard the yacht, which was proceeding toward Egypt, saw the small boats and began firing. The boats returned fire in a chase that lasted approximately one hour before contact was made with the vessel. Security consultant Ambrey is saying the yacht had failed to respond to calls from the Yemen Coast Guard, which returned fire before contact was established.
The vessel's owner however interviewed with Boat International insisting that it was a pirate attack with three small boats masquerading as Yemen Coast Guard. He said the attack had lasted between four and five hours and supplied the outlet with pictures showing bullet holes and damage at various locations in the passenger quarters.
The report said that one of the security guards was wounded in the shoulder and receiving medical attention. No one else was injured aboard the vessel. Boat International reports that the MRCC assisted by sending a Spanish-flagged vessel and an Indian Navy aircraft to the scene.
Despite downgrading its report, UKMTO refers to the incident as ongoing and advises vessels to continue to report suspicious activity in the area.
Photo of the Kalizma by Shirish121067 -- CC BY-SA 4.0 license