ATF: Fire Aboard Dive Boat Conception Started in a Rubber Trash Can
After carrying out a painstaking recreation of the fire aboard the dive boat Conception, the Bureau of Alcohol, Tobacco and Firearms (ATF) has determined that the blaze likely began in a plastic trash can on the main deck level - not in a stack of charging lithium-ion batteries, as originally suspected.
ATF investigators built a mockup of the main deck level of Conception to test out various scenarios for the fire's starting and spread, according to documents obtained without authorization by the Los Angeles Times. Though the vessel had burned to the waterline, they still had several data points to work with: witness statements from surviving crewmembers, photos and videos of the boat before the fire, and some physical evidence from the wreckage. They also had access to a sister vessel, the Vision.
Images from Conception on past voyages: at left, a larger trash can is stowed under the ladder; at right, from the year of the fire, the can has been replaced by a smaller one, and a set of wooden shelves has been installed directly above it (ATF)
Several elements pointed to the trash can in the main deck salon, located just under the ladder to the pilothouse level. A crewmember, Mickey Kohls, told investigators that he had dumped four small trash bins into the Rubbermaid polyethylene trash can located underneath the ladder. The time of this chore was about 0235 on the morning of the casualty. Kohls was awakened at 0312, 37 minutes later, by the sound of a fire on the deck below.
ATF officials recreated Conception's main deck and tested out several different scenarios for the fire. The trash-can theory produced results consistent with the available evidence: it melted in two minutes, caught a nearby life ring on fire in 10 minutes, and had the back half of the salon burning within under 15 minutes.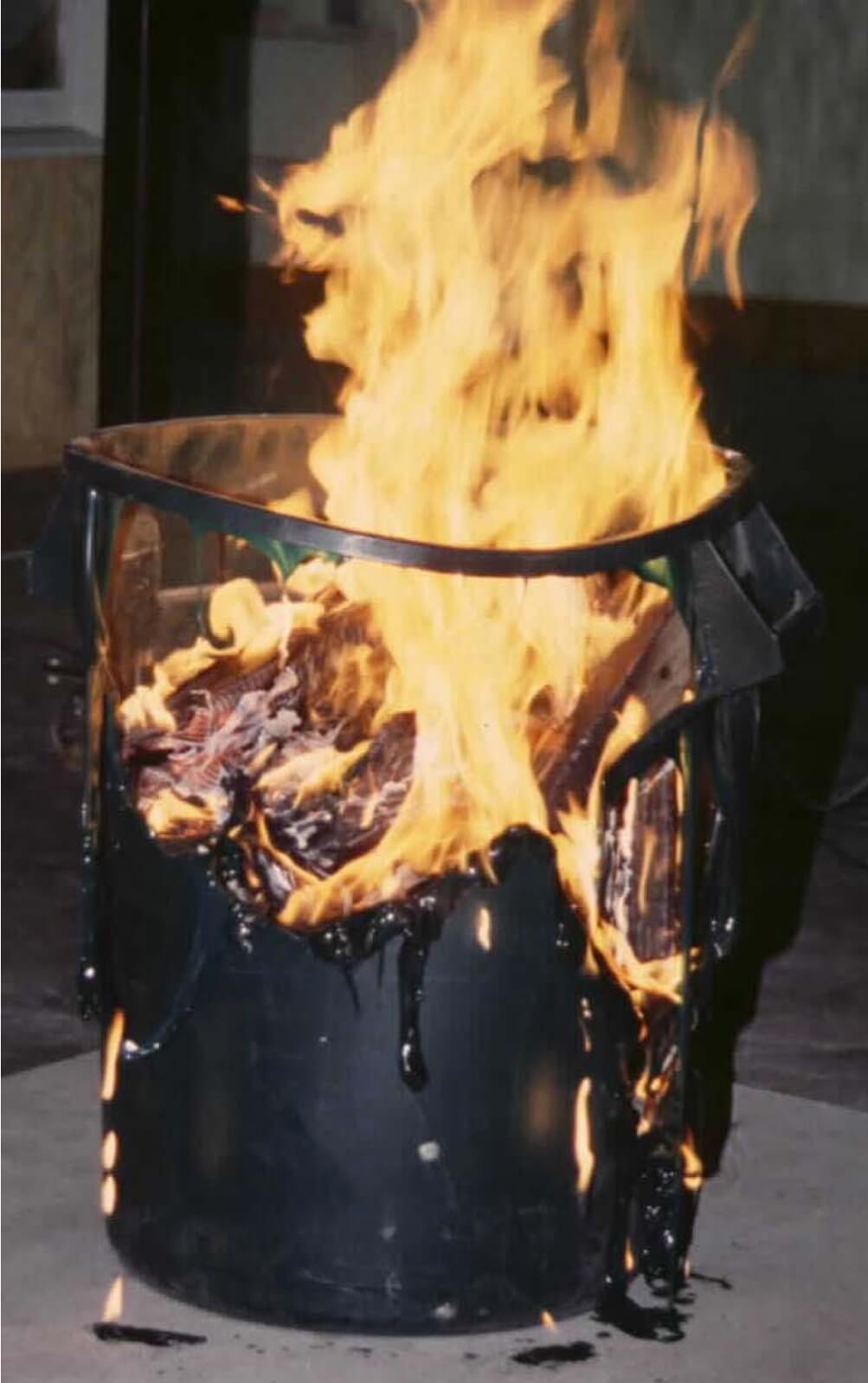 Though they have narrowed down the location, investigators still cannot be sure of the exact cause of ignition. It could have been something inside the trash can, but could also have been another source located nearby. However, there was no evidence supporting the theory that charging batteries had sparked the blaze. After the fire, the U.S. Coast Guard warned vessel operators to exercise extra caution with onboard charging of lithium-ion batteries, reflecting concerns about the large number of battery packs for dive and photography equipment aboard Conception.
[Above: Example of a polyethylene trash can fire in a 2003 laboratory test, NIST]
Polyethylene trash cans are a known fire risk, and new Subchapter T boats are required to have noncombustible waste receptacles in all compartments. Conception was an older vessel and was exempt from this standard.