ATB Tug Sinks at the Pier at Port of Milwaukee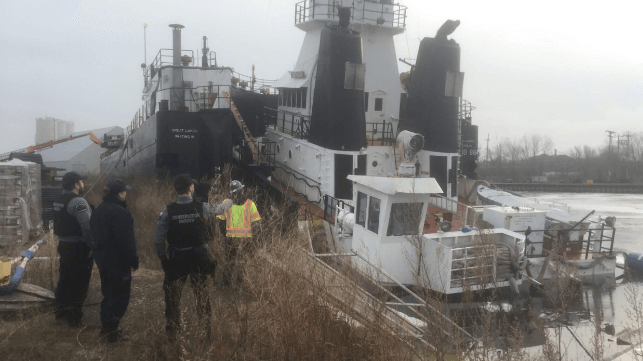 On Monday, an ATB tug partially sank at the Port of Milwaukee, prompting a pollution-control response.
At about 1130 in the morning, the National Response Center - responsible for coordinating oil spill response efforts - notified the Coast Guard that the tug Michigan had partially sunk at its moorings.
The vessel has at most 40,000 gallons of diesel aboard, but no pollution has been observed, according to the Coast Guard. Booms and sorbent material have been deployed as a precautionary measure.
Photos from the scene appear to show that the Michigan is still in the notch and attached to its petroleum barge, the Great Lakes. The tug's stern is submerged, but the bow and superstructure are still above water. No damage or other impacts to the barge have been reported.
"At this point in time, the Coast Guard's focus is the marine environmental protection and the potential waterway impacts," said Capt. Seth Parker, the Commander of Sector Lake Michigan.
Michigan (ex name Amoco Michigan) was originally built as a conventional twin-screw tugboat by Bay Shipbuilding in 1982. She was retrofitted with the Articouple ATB coupling system in 2015 and joined to the barge Great Lakes to become a tug-barge pair.
The shipowner, U.S. Venture, has contracted with a salvor to continue the response.