At Least 62 Dead in Migrant Vessel Wreck on Italian Shores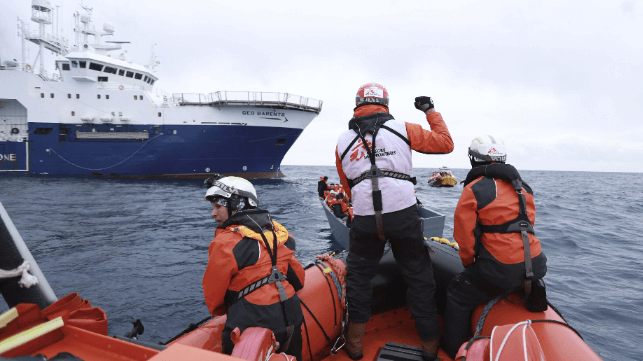 On Thursday, shortly after the Italian Senate's approval of a new set of restrictions on migrant rescue vessels, the government of Italian Prime Minister Giorgia Meloni detained the MSF-operated rescue ship Geo Barents at Ancona.
Geo Barents faces 20 days of detention and fines of up to $10,000 for allegedly failing to share information on its movements with Italian authorities, including VDR data.
"We are assessing what legal actions we can take to challenge what happened," MSF said in a statement. "It is not acceptable to be punished for saving lives."
Three days after the detention, an unrescued migrant vessel went aground on a beach and broke up in the surf zone at Crotone, Italy, resulting in the loss of at least 62 lives. 80 survivors were rescued, and an unknown number remain missing; estimates of the total number of people aboard range up to 200 individuals. The location is within the Italian search and rescue zone, far from the standard NGO area of operations.
MSF warned that tragedies like the Crotone wreck were likely to become more common if Italy continued to de-emphasize state sponsored search and rescue and if NGO SAR vessels were penalized and impeded.
"These tragedies are the results of tragic collateral damages of Italian and European policies, protecting borders and reducing safe and regular passage to Europe. It's impossible to avoid tragedies without reactivating a state-led sea rescue mechanism," said MSF Italia program director Marco Bertotto in a statement.
Last week, an additional 70 people were killed in a migrant boat wreck off the coast of Libya.
"The continuing intolerable loss of life in the Mediterranean shows once again that saving lives must always take priority in migration policies," said Antonio Vitorino, head of the UN migration office (IOM). "States must also prioritize expanding legal and safe pathways to migration to reduce perilous journeys."