ANZAC Day: Photos from April 25, 1915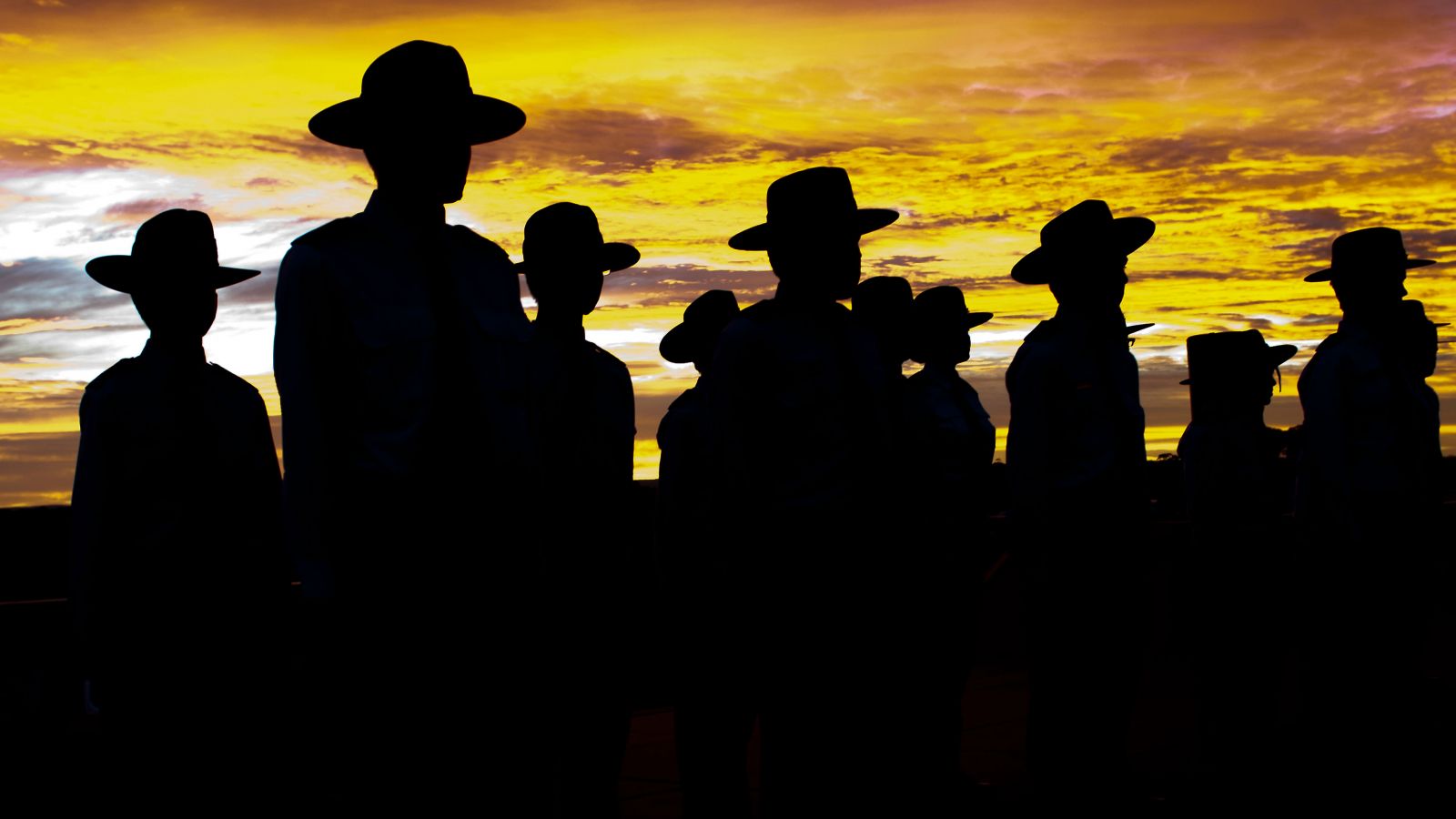 April 25 is ANZAC Day, one of Australia and New Zealand's most important national occasions. It marks the anniversary of the first major military action fought by Australian and New Zealand forces during the First World War.
Gallipoli cost the Allies 141,000 casualties, of whom more than 44 000 died. Of the dead, 8,709 were Australians and 2,701 were New Zealanders. The Turks suffered 251,000 casualties, of whom more than 86,000 lost their lives.
ANZAC Day goes beyond the anniversary of the landing on Gallipoli in 1915, as it is a time to remember all those who have served and died in war.
Australia in World War I
Australia's involvement in the First World War began when Britain and Germany went to war on August 4, 1914, and both Prime Minister Joseph Cook and Opposition Leader Andrew Fisher, who were in the midst of an election campaign, pledged full support for Britain. The outbreak of war was greeted in Australia, as in many other places, with great enthusiasm.
The first significant Australian action of the war was the Australian Naval and Military Expeditionary Force's (ANMEF) landing on Rabaul on September 11, 1914. The ANMEF took possession of German New Guinea at Toma on September 17, 1914 and of the neighboring islands of the Bismarck Archipelago in October 1914. On November 9, 1914, the Royal Australian Navy made a major contribution when HMAS Sydney destroyed the German raider SMS Emden.
On April 25, 1915 members of the Australian Imperial Force (AIF) landed on Gallipoli in Turkey with troops from New Zealand, Britain and France. This began a campaign that ended with an evacuation of allied troops beginning in December 1915.
The next year Australian forces fought campaigns on the Western Front and in the Middle East.
Throughout 1916 and 1917, losses on the Western Front were heavy and gains were small. In 1918, the Australians reached the peak of their fighting performance in the battle of Hamel on July 4. From August 8, they then took part in a series of decisive advances until they were relieved in early October. Germany surrendered on November 11.
The Middle East campaign began in 1916 with Australian troops taking part in the defense of the Suez Canal and the allied re-conquest of the Sinai Desert. In the following year, Australian and other allied troops advanced into Palestine and captured Gaza and Jerusalem; by 1918 they had occupied Lebanon and Syria and on October 30, 1918 Turkey sued for peace.
For Australia, the First World War remains the costliest conflict in terms of deaths and casualties. From a population of fewer than five million, 416,809 men enlisted, of whom more than 60,000 were killed and 156,000 wounded, gassed or taken prisoner.
Photographs taken on April 25, 1915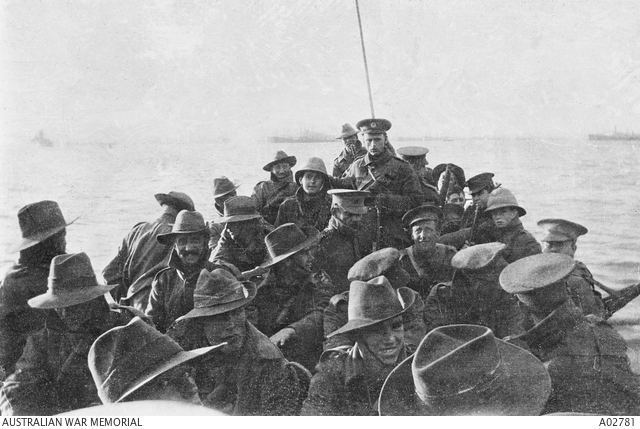 A view looking aft of lifeboat carrying unidentified men of the Australian 1st Divisional Signal Company as they are towed towards Anzac Cove at 6 am on the day of the landing.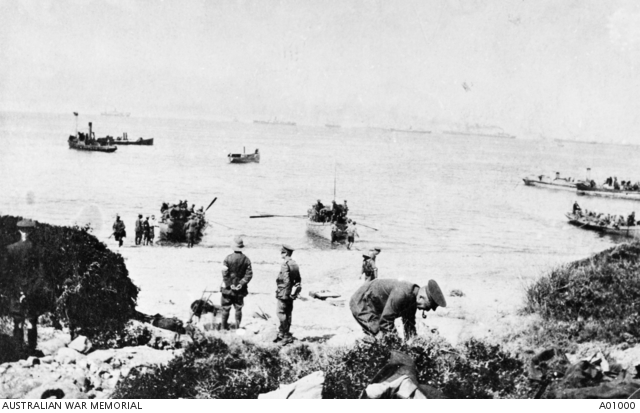 Boats carrying troops to shore on the morning of the Anzac Cove landing. General Bridges is in foreground.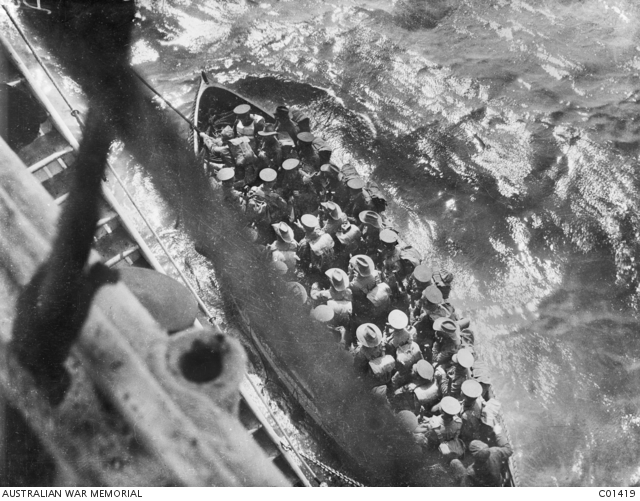 A boatload of 6th Battalion soldiers leaving the transport ship HMT Galeka on their way to land at Anzac Cove.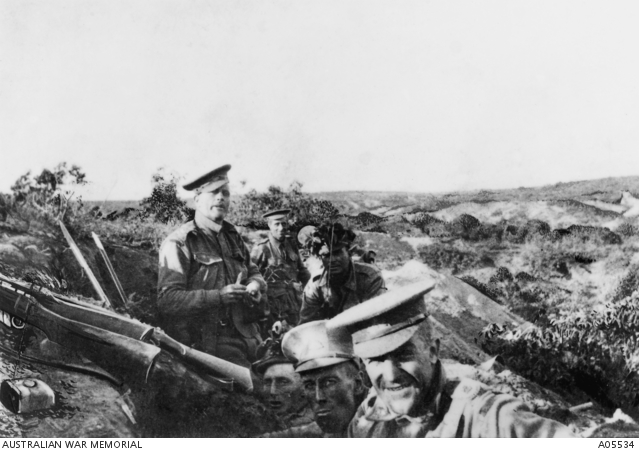 Members of 13th Battalion, AIF, occupying Quinn's Post on the heights above Anzac Cove. Identified left to right: Back row: Glasgow (probably 1015 Private Alexander James Glasgow); McRae (a New Zealander); unidentified. Front row: Fenn (probably 255 Private Samuel James Fenn died of wounds May 30, 1915); Ward (unable to further identify); Lance Sergeant 'Curly' Rogers (probably 905 John Rogers, killed in action May 3, 1915).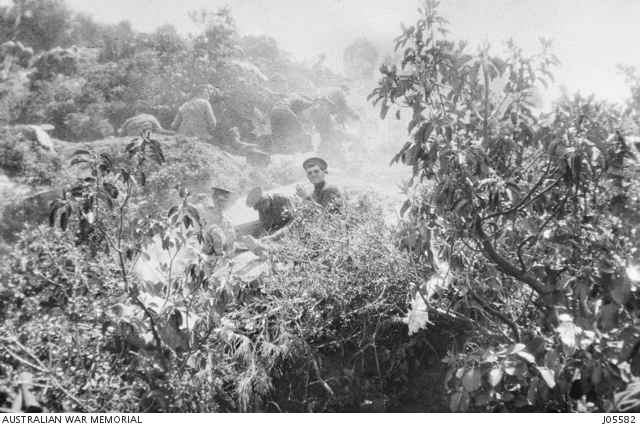 The position covering Quinn's Post and the Chessboard on the Gallipoli Peninsula occupied by the 7th Battalion Machine Gun section, which was operating apart from the 7th Infantry Battalion, the latter being somewhere to the right. Facing the camera is Private Ridgway, later Lieutenant Ridgway, 15th Brigade. The photograph was taken about 1500 hours.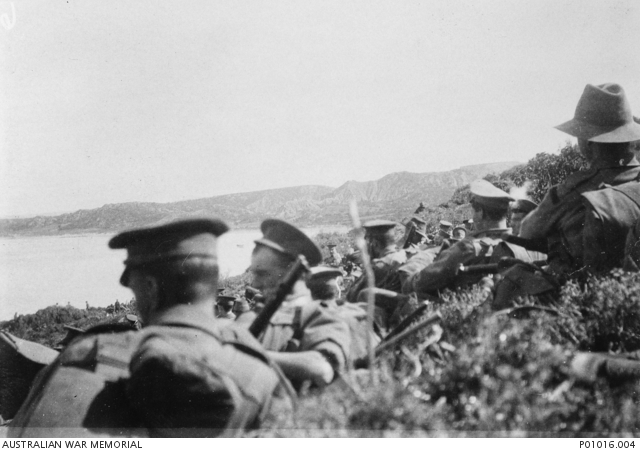 Soldiers of the 1st Battalion, Australian Imperial Force, awaiting orders from the southern edge below Plugges Plateau. Colonel Dobbin is in the centre mid-ground, to the left of the branch.
Australian troops going into action across Plugge's Plateau after the landing on 25 April at about midday. Men in front may be seen kneeling in the scrub. The troops were under fire from the other side of Shrapnel Valley. This scene is from a captured Turkish trench overlooking the Anzac Cove beach.
Anzac biscuits
The army biscuit, also known as an Anzac wafer or Anzac tile, is essentially a long shelf-life, hard tack biscuit, eaten as a substitute for bread. Unlike bread, though, the biscuits are very, very hard.
Some soldiers preferred to grind them up and eat as porridge. The popular Anzac biscuit is a traditional, eggless sweet biscuit.
Ingredients
1 cup each of plain flour, sugar, rolled oats and coconut
4 oz butter
1 tbls treacle (golden syrup)
2 tbls boiling water
1 tsp bicarbonate soda (add a little more water if mixture is too dry)
Method
1. Grease biscuit tray and pre-heat oven to 180°C.
2. Combine dry ingredients.
3. Melt together butter and golden syrup. Combine water and bicarbonate soda, and add to butter mixture.
4. Mix butter mixture and dry ingredients.
5. Drop teaspoons of mixture onto tray, allowing room for spreading.
6. Bake for 10 to 15 minutes or until golden. Allow to cool on tray for a few minutes before transferring to cooling racks.