Antwerp Deploys Autonomous Drones to Boost Port Security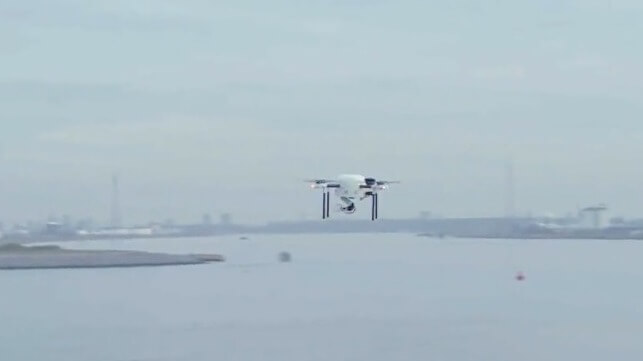 Europe's second busiest port, Antwerp-Bruges, is deploying autonomous drones to improve security across the sprawling complex.
After experimenting with a digital solution to detect floating debris, which could pose a risk of damage to ships and the environment, Antwerp-Bruges is responding to the growing need to guarantee security over its vast area by deploying drones to give 'live feed' of port activities. This will provide the port authority with a real-time picture of what is happening at facility.
To cover an area of more than 120 square kilometers, the Antwerp-Bruges Authority will use six autonomous drones to perform daily flights in the port area. The drones will complement the network of cameras and sensors that provide thousands of pieces of digital data on port activities, a combination of which will help in guaranteeing security.
Antwerp has a substantial need for port security measures. Data provided by Belgian authorities indicates that cocaine seizures in Antwerp rose from 91 tonnes in 2021 to close to 110 tonnes in 2022, making Antwerp the leading port for cocaine busts in Europe, according to the European Monitoring Centre for Drugs and Addiction.
Describing the project as a world first, Antwerp-Bruges says the deployment of the 'D-Hive drone-in-a-box' network will offer a unique perspective from the air. The drone project is being launched in a partnership with DroneMatrix, SkeyDrone and Proximus. Though the three firms were given the green light to launch the drone network two months ago, it is the culmination of a vision conceived five years ago when Antwerp-Bruges unveiled plans to build a network of autonomous drones.
"Given the huge surface area of the port, drones provide us with leverage when it comes to carrying out our core tasks as a port authority," said Jacques Vandermeiren, port of Antwerp-Bruges CEO.
The daily drone flights will support berth management, monitoring, infrastructure inspections, oil spill and floating waste detection and support security partners during incidents. The 18 daily drone flights will be remotely controlled from a command and control center in the heart of the port.
?Antwerp-Bruges believes it has become the first port in the world to implement beyond visual line of sight (BVLOS) flights on this scale in a complex industrial environment. Unlike VLOS (Visual Line Of Sight) flights, these will take place out of the pilot's sight. The safety of the drones to fly over the vast area has been approved by Belgian and European aviation authorities.
"We are going all out to make our port – the engine of our economy – run as safely, cleanly and smoothly as possible. Thanks to this drone network, we will have a more accurate sense of what is going on at the port as we work towards the achievement of a safe, efficient and smart port – the port of the future," said Annick De Ridder, Vice-Mayor of the City of Antwerp and port of Antwerp-Bruges board President.
Antwerp-Bruges was created through the merger of the ports of Antwerp and Zeebrugge last year, and it is Europe's second busiest port. The port provides, directly and indirectly, a total of around 164,000 jobs and generates an added value of $23 billion.