Antigua Prepares to Auction Off Abandoned Yacht With Links to Russia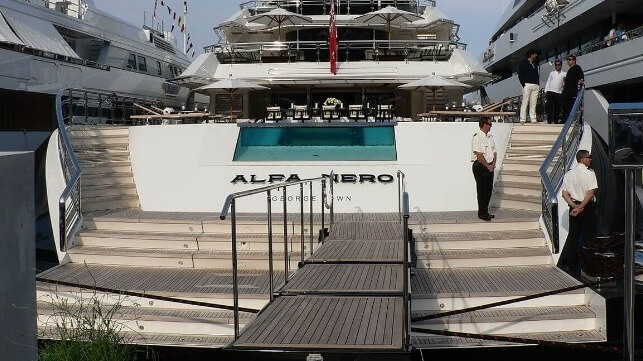 The government of Antigua and Barbuda is preparing to condemn and auction off a Russian-linked megayacht that no one is willing to claim. The 269-foot yacht Alfa Nero has been abandoned at Falmouth Harbor for over a year, and as the true owner has yet to reveal their identity and pay the bills, the government plans to dispose of it as a hazard to navigation.
Alfa Nero has been linked to Russian billionaire Andrey Guryev, owner of fertilizer maker PhosAgro and confidant of Russian President Vladimir Putin. A spokesman for Guryev told the New Yorker in 2015 that he was not the yacht's beneficial owner and merely chartered Alfa Nero on a regular basis.
Guryev was sanctioned by the U.S. government in early 2022 in connection with the Russian invasion of Ukraine, and the yacht went AIS-dark shortly after. It later appeared in Falmouth Harbor, and the FBI arranged with local authorities to raid it and question the crew for evidence of its ownership.
Megayachts require constant and meticulous upkeep, and the state of Alfa Nero's preservation since its arrival in Antigua is unknown. The local government has reportedly cautioned local businesses not to transact with the vessel, which could deter skilled tradesmen. Photos from before its abandonment suggest exquisite design and craftsmanship, from parquet interior wood paneling to a cylindrical glass elevator. The vessel has a rear pool with a hydraulically-operated flush-deck cover, along with all the standard appurtenances of an oligarch's yacht - beauty salon, spa, multiple dining compartments, and a stepped "beach club" at the stern.
We are the Central Charter Agent for the stunning Alfa Nero. #superyacht #charter #carribean #mediterranean #luxurytravel #alfanero pic.twitter.com/m9cSlvBH3I

— Royale Oceanic (@RoyaleOceanic) January 31, 2017
If no one steps forward to claim ownership of Alfa Nero, the government will proceed with a forced sale in order to preserve the yacht's remaining value.
"A notice to the newspapers and other media will be published for a period of ten days, notifying the sale of the Alfa Nero vessel in order to satisfy the requirements under the law for a forced sale. If the owner fails to claim the vessel within that time period, the Government of Antigua and Barbuda will sell it to the highest bidder," the office of the prime minister said in a brief statement.
If auctioned, Alfa Nero would join an exclusive club of formerly-sanctioned Russian yachts available for new ownership. The yacht Axioma sold for $37 million in Gibraltar in September 2022, and the superyacht Royal Romance is expected to be auctioned off in Croatia soon, with proceeds to benefit the government of Ukraine.
Top image: Alfa Nero in Monaco (Remii / CC BY SA 3.0)