Anchor-Drag Incident off Finland May Have Damaged Russian Telecom Cable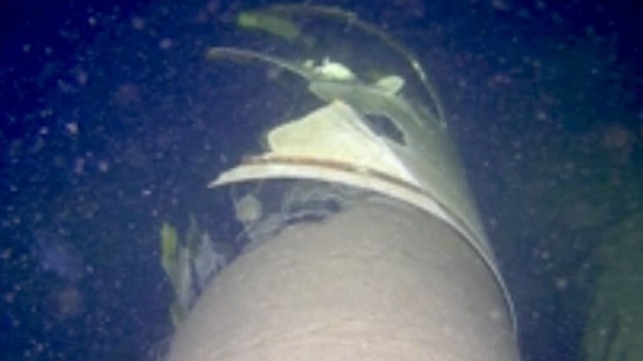 The scope of damage from a suspected anchor-dragging incident involving a Chinese ship in the Baltic may have been larger than previously reported, according to Finland's Ministry of Economic Affairs. In addition to a ruptured gas pipeline and two damaged telecom cables connecting three NATO member states, a Russian fiber-optic cable was also reported damaged during roughly the same timeframe, the ministry revealed Monday.
The Balticconnector gas pipeline from Finland to Estonia, an adjacent telecom cable and a second cable from Estonia to Sweden were all damaged in the early hours of October 8. The government of Finland believes that the rupture was caused by "external" forces, and a dragged anchor is the primary culprit. Post-accident investigations found a miles-long drag trail leading up to the pipeline, a broken anchor at the damage site, and a smaller drag trail the size of an anchor stock leading away.
Finnish authorities initially suspected a saboteur with a "certain amount of know-how and special equipment," and though not stated explicitly, all eyes turned to Russia. The Russian government had already threatened to take "military-technical" steps to retaliate against Finland for joining NATO in April, and it has extensive capabilities for subsea espionage and sabotage.
However, the more recent evidence points to a Chinese-owned ship, the NewNew Polar Bear. The vessel crossed the pipeline at the location of the damage site, and at about the same moment that a faint seismic event was detected near that position. It was later photographed arriving in Archangelsk with what appeared to be an empty port side hawsepipe, missing one anchor.
The NewNew Polar Bear's crew refused to cooperate with investigators, and the ship has long since departed. Finnish authorities are still working to determine whether the damage was intentional.
On Monday, Finland's Ministry of Economic Affairs reported that a Russian telecom cable was also damaged in the same area, at roughly the same time. The operator of the Baltika cable, Rostelcom, asked for permission to carry out a repair in Finnish waters on October 12, four days after the incident.
Rostelcom has nominated the multipurpose response ship Spasatel Karev to carry out the repair. The Karev is not a cable-layer, but a government-owned icebreaking rescue ship equipped for heavy ocean towing, dive operations and other salvage tasks.