American Seafoods Settles Jones Act Enforcement Case for $9.5 Million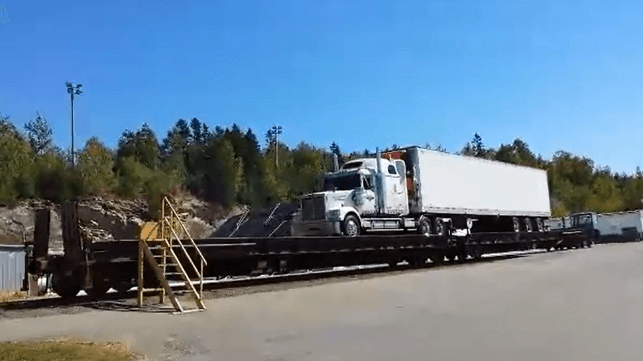 Two logistics firms affiliated with American Seafoods have reached a $9.5 million settlement with the U.S. Department of Homeland Security, closing out two years of litigation tied to the "Bayside Canadian Railroad." This 100-foot track was created to legalize the use of foreign-flag reefer ships on a cargo route from Alaska to Maine - a route that should have belonged to the Jones Act shipping industry, according to U.S. Customs and Border Protection.
For more than a decade, American Seafoods delivered its Alaskan fish to customers on the U.S. East Coast using chartered foreign-flag vessels, acting through its Alaska Reefer Management affiliate. These ships were loaded in Dutch Harbor and would transit through the Panama Canal and up to the port of Bayside, Canada. At Bayside, the cargo was offloaded into truck trailers for delivery to the Eastern United States, completing a 7,500 nautical mile journey between two U.S. points.
The foreign-flag shipment would violate the Jones Act if the trucks went directly to Maine, but the route took advantage of an obscure clause - the "Third Proviso" - which permits foreign-flag vessels to be used if a "through route over" a Canadian rail line is involved in the delivery. To comply with this little-known loophole, each truckload of fish at the Bayside terminal was driven up a ramp and onto the "Bayside Canadian Railway" - a 100-foot stretch of track with two rail cars and no destination. After a short back and forth trip on this Canadian rail line, the trucks would head onwards to the Maine border.
U.S. Customs and Border Protection disagreed with this interpretation of the Jones Act, and concluded that it was a "calculated and secret scheme" to circumvent legal protections for American shipping. In August 2021, CBP sent notices of violation to American Seafoods, Alaska Reefer Management, terminal operator Kloosterboer and several reefer shipowners, seeking retroactive fines totaling about $400 million - making it the largest Jones Act enforcement action on record.
Alaska Reefer Management and Kloosterboer filed suit and obtained a federal court injunction to prevent CBP from enforcing the fines. While the injunction held, they finished delivering the remaining fish that had been stuck in transit on the Bayside Route. The rail line was then shuttered and dismantled, and ASC's leadership changed hands, but litigation over fines for past activity continued.
On Wednesday, Alaska Reefer Management, Kloosterboer and CBP filed a notice of settlement, confirming that they plan to end the lawsuit. The reported amount of payment to CBP comes to $9.5 million, or about two percent of CBP's proposed fines against all of the enforcement targets.