Amazon Adds Methanol Bunkering to Eco-Transport Deal with Maersk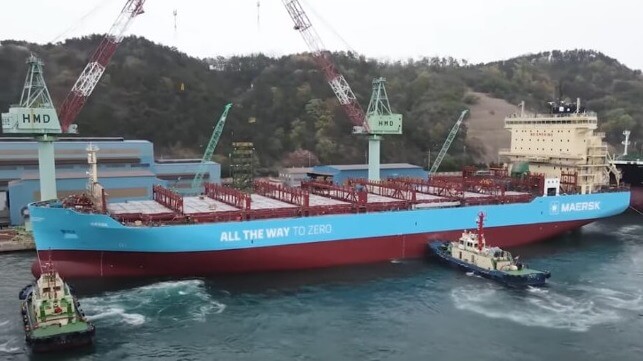 Amazon and Maersk have closed on a contract agreement for moving about 40,000 TEU worth of cargo using green biofuel. The partners have reached similar agreements for the past four years, but this is the first time that the mix will be supplemented by green methanol as a second alternative fuel.
Amazon will have containers on Maersk's first-ever methanol-fueled feeder vessel, and will continue to benefit from green biofuel transport. According to Maersk, the agreement will lead to an emissions reduction of 45,000 tonnes of CO2 over the course of the year when compared to standard bunker fuel.
Maersk's audited ECO Delivery service monitors fuel consumption under way in order to calculate emissions savings, and takes greenhouse gases other than CO2 into consideration in the algorithm. ECO Delivery accounts for about two percent of the shipping giant's cargo volume.
The firm said that the new agreement with Amazon will provide price stability, and it is de-linked from fossil fuel prices.
"We share a common goal with Amazon to reduce our total GHG emissions to net zero by 2040. . . . Decarbonizing shipping is one significant step that is to be combined with many others to protect our future," said Narin Phol, the president of North America at AP Moller-Maersk.
Maersk is the operator of the world's first dual-fuel methanol containership, delivered by Hyundai Mipo in July. The company has led the way in ordering methanol-fueled tonnage, and it is also building a supply chain for the green methanol to fuel it. This will be a key factor going forward: the limited supply of the green fuel will be the primary bottleneck for adoption, according to analysts and insiders.
Fortescue's Global Head of Shipping and Marine Projects, Andrew Hoare, warned earlier this month that the methanol supply chain (outside of Maersk's private portfolio) will not support the growing dual-fuel methanol fleet. "We know that there isn't enough methanol on the planet to supply those ships," he said, speaking at DNV's Singapore Energy Transition 2023 Conference. "What is going to happen is they're just going to sell engines which are able to burn methanol and fuel oil, and they will only burn fuel oil."