Aid Distribution Remains a Challenge for Puerto Rico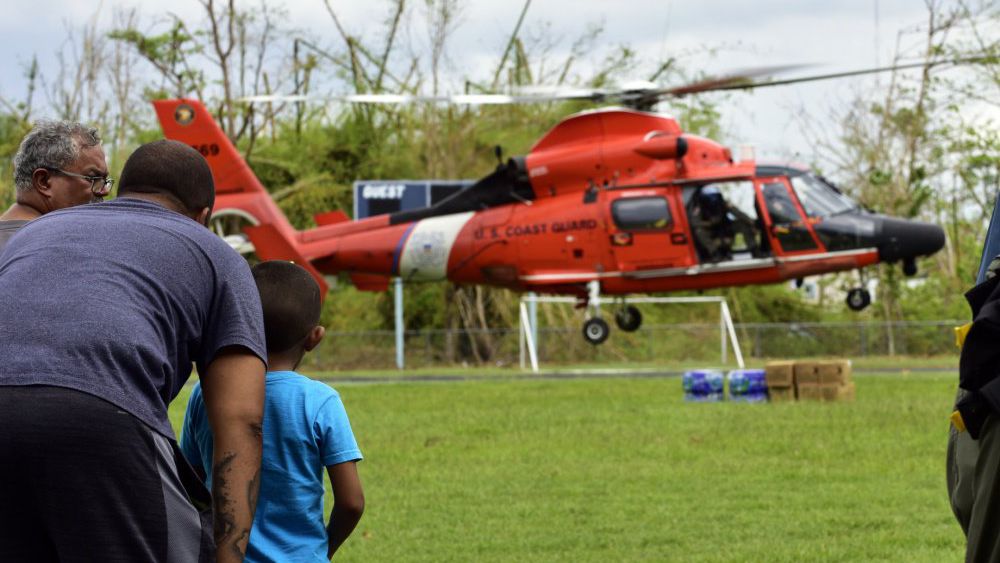 Anecdotal reports emerging from Puerto Rico suggest that the Hurricane Maria relief effort may not be meeting the needs of all of the island's residents. Correspondents report inadequate supplies of food, water and fuel in remote areas; limited capacity or shortened hours at medical facilities; and continued problems with communications and electrical power, among other difficulties. In particular, a senior FEMA official told the Guardian that "we are 1.8 million meals short" of providing the two million meals per day that the island's displaced residents need. "And it's not going away. We're doing this much today, but it has to be sustained over several months," the official said.
FEMA has not provided a specific tally of its aid distribution volumes, but the Trump administration maintains that the relief effort is proceeding well. The Pentagon says that 65 of 67 hospitals are open, 36 of them on the power grid and 29 on generator power, and 43 of 48 dialysis centers are operating. (The Times reports limited hours and availability for dialysis patients.) Fifteen percent of customers have electricity, 57 percent of customers have water safe to drink after boiling, and 64 percent of the population has available cellular services. Seventy-six percent of gas stations now are open.
The military has provided much of the heavy lifting for the relief effort. 13,000 DoD personnel are now on the island and assisting with the distribution of food, water and fuel. They are also helping with route clearance, airlift support, medical care and major engineering works, including the repair of the Guajataca Dam. The Army Corps of Engineers has taken on the task of restoring power to one third of the island – from San Juan to the east – while the Puerto Rico Electric Power Authority takes care of the remaining two-thirds.
Productivity improves at commercial terminals
But the aid bottleneck is not on the water or at the ports: in the weeks after the storm, Jones Act mariners carried more containerized cargo to San Juan than truckers could distribute. Shipping firm TOTE Maritime says that it has seen an increase in overall productivity at the Port of San Juan as more and more containers leave the terminal for communities around Puerto Rico. On Monday, the firm's terminal reached 87 percent productivity, with more than 330 loads of relief and commercial goods leaving the gate.
TOTE Maritime said that its team in San Juan has been working around the clock, every day, to ensure that drivers and customers coming to the terminal are able to access their goods. In addition, TOTE says that it is handling the logistical needs for government purchased containers and relief goods being shipped from non-profit organizations and others in the US. In doing so, TOTE is coordinating the inland transportation for relief goods – something that is not part of the company's normal offerings.
Late last night, TOTE's container ship Isla Bella docked with more than 1060 containers, carrying relief and recovery goods for FEMA, utility trucks, communications infrastructure and other critical cargo. On Saturday, TOTE's Perla del Caribe arrived with 1060 FEUs of cargo include relief goods, utility trucks, large generators and various equipment for communication and power companies.
TOTE says that it has delivered more than 5,200 containers of goods to the island since Hurricane Maria and will deliver an additional 2000 containers in the coming week.