After Long Delay, Senate Confirms Adm. Franchetti as Navy's Top Officer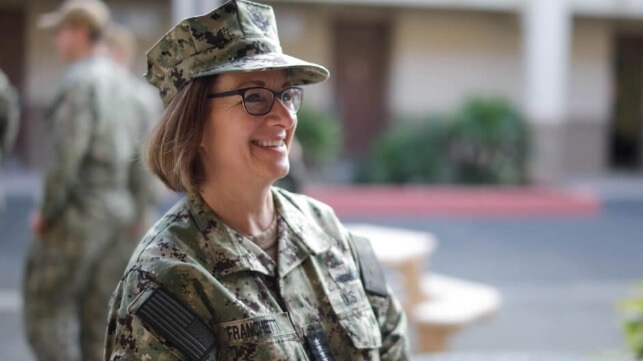 After a wait of 103 days, the U.S. Senate bypassed a political hold and confirmed the appointment of Adm. Lisa Franchetti as Chief of Naval Operations. Franchetti is the first woman ever to hold the post, as well as the first female member of the Joint Chiefs of Staff. The vote was 95-1, all in favor except for Sen. Roger Marshall (R-KS).
Franchetti's appointment was held up by Sen. Tommy "Coach" Tuberville (R-Al), who has put a hold on the confirmation process for all senior military promotions and nominations since March. Promotions and appointments for uniformed officers are usually uncontroversial and passed en masse, by voice vote. Sen. Tuberville has insisted that he will block the regular confirmation process until the Pentagon stops reimbursing servicemembers for travel expenses for reproductive health services (abortions).
In addition to Franchetti, the hold affects the head of U.S. Indo-Pacific Command and about 300 other generals and admirals across the armed forces. Most remain unconfirmed, and the hold forces the Senate to consider and vote on each one. It has already done so for Joint Chiefs Chairman Gen. C.Q. Brown and Marine Corps Commandant Gen. Eric Smith.
Military leaders across the armed forces have warned that the impasse is impacting readiness, making it harder for the armed forces to set policy, take decisions and formulate long-term strategy. Tuberville has resisted attempts by his Republican colleagues to end the blockade and pass all of the nominations en masse.
"I'm going to keep my holds in place. If senators want to vote on these nominees one by one, I'm all in. But I will keep my holds in place until the Pentagon follows the law or the Democrats change the law," Tuberville said Thursday.
On the same day, the Senate also approved the promotion of Lt. Gen. Christopher Mahoney as Assistant Commandant of the Marine Corps. The vote followed just a few days after the hospitalization of Marine Corps Commandant Gen. Eric Smith for a heart attack, which left the Marine Corps without a confirmed leader.
Tuberville voted in favor of all of the one-by-one confirmations on Thursday, including Franchetti's.
Adm. Lisa Franchetti is a surface warfare officer by background. She commanded USS Ross (DDG 71), and she served aboard USS Shenandoah, USS Monongahela, USS Moosbrugger and USS Stout. She also commanded Carrier Strike Group 9; Carrier Strike Group 15; and headed Strategy, Plans and Policy (J-5) on the Joint Staff.