After Grounding, Maryland Bans Marine Pilots From Using Their Phones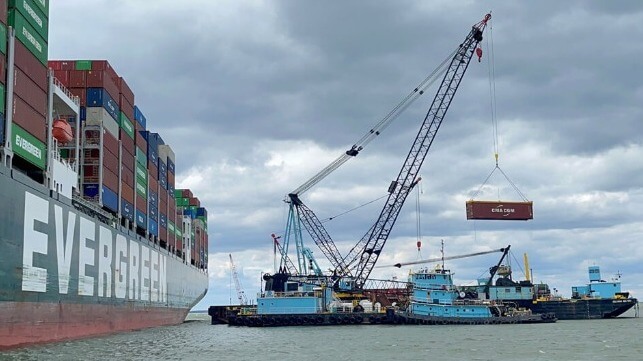 After a distracted pilot ran the boxship Ever Forward aground in Chesapeake Bay last March, the Maryland Board of Pilots has decided to enact a rule change that forbids on-duty pilots from using their phones.
"The job of a state-licensed pilot requires absolute attention and focus on the job of safety piloting, navigating maneuvering, anchoring docking or undocking a vessel," board chairman Sandy Steeves told local media in a statement.
Maryland banned texting and driving in 2013, but it had still been technically legal to "text and pilot" merchant ships while in state waters. Last year, one pilot's ill-timed decision to use a phone put the containership Ever Forward aground on an oyster bank, where the vessel stayed for a month as salvors worked to free her.
Ever Forward departed Seagirt Marine Terminal in Baltimore on the evening of March 13, 2022, with a licensed Maryland senior pilot on the bridge. The 12,000 TEU vessel was outbound, headed for Norfolk, in mild, clear weather.
At 1930 hours, the master left the bridge to go to dinner, leaving the pilot with the third officer, an AB and a cadet. At 2017 hours, as Ever Forward approached a turn in the channel, the pilot - distracted by his phone - gave no orders to make the course change. The third officer reminded him of current speed and heading in hopes of getting his attention, but the pilot did not notice. The vessel had overshot her turn by a full minute at full ahead by the time he became aware that something was amiss. He ordered urgent maneuvers to avoid a grounding, but it was too late.
Investigators reviewed the vessel's Voice Data Recorder and found that the pilot talked on the phone for about half of the 126 minute time period between leaving the berth and running aground. He had also been seen texting and writing an email on his phone (and he was writing an email when the turn was missed).
"Had Pilot 1 refrained from drafting email correspondence, and placing and receiving personal or non-urgent professional calls, it is possible he would have maintained better situational awareness and properly executed the turn in a timely manner, avoiding the vessel grounding," the Coast Guard concluded.
In October, the Maryland Board of Pilots suspended the license of the pilot involved, though it offered him an opportunity for a hearing to appeal the decision.
The Association of Maryland Pilots and the Maryland Board of Pilots did not have cell phone policies at the time of the grounding. The U.S. Coast Guard does not have formal regulations on cell phone use, though it "strongly recommends vessel owners and operators to develop and implement effective operational policies."