After Deadly Ferry Sinking, Iraqi Court Seeks Governor's Arrest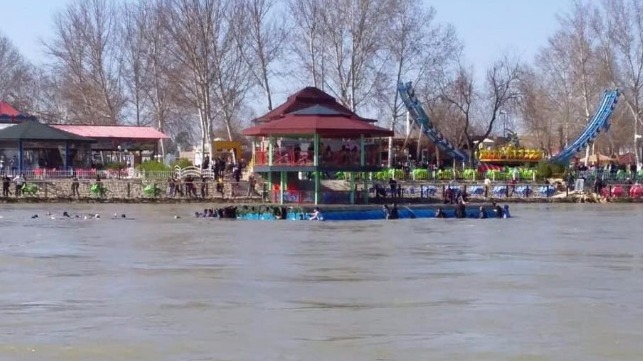 An Iraqi court has issued an arrest warrant for the former governor of Nineveh Province after the deadly ferry accident that killed more than 90 people in Mosul last week.
Ex-governor Nawfal al-Akoub (Nawfal Hamadi) stands accused of abuse of power and wasting public funds. He was removed from office over the weekend by Iraq's parliament on the grounds of alleged negligence and dereliction of duty, and he has since fled to Erbil, the capital of Iraq's self-governing Kurdistan Autonomous Region.
On Thursday, a small ferry was carrying local residents across the Tigris to a tourist area on Umm Rabaen Island. Due to heavy rains and a water release from a dam upstream, the river was high and the current was strong, and officials had already issued a warning about hazardous conditions on the river. The vessel was also overloaded to five times its rated capacity, according to the Mosul Civil Defense Authority. Video of the casualty shows that the fast-flowing water overtopped the vessel's starboard side, pushing it downwards until it capsized. The occupants who escaped the vessel were quickly swept downriver.
#Iraq ferry sinking: Ministry of interior says 96 people drown in #Mosul. pic.twitter.com/3sw8tpDl6E

— Zaid Benjamin (@zaidbenjamin) March 21, 2019
At least 94 bodies have been found to date; 61 of the dead are women and 19 more are children. Thursday was a holiday for the Kurdish New Year, and was also Iraq's date for Mothers' Day, according to Kurdish media.
In the wake of the accident, Iraqi Prime Minister Adil Abdul-Mahdi promised to hold those responsible for the casualty to account. "What would it have cost the investors if he had given each individual on the ferry a lifejacket? We would have saved most of the victims," Abdul-Mahdi said. "We will strike powerfully with the fist of justice, and we won't allow for such things to be repeated." Iraq's justice ministry has already ordered the arrest of nine managers from the ferry company and placed a travel ban on the owners of the vessel.
Governor al-Akoub was already unpopular in Mosul for perceived delays in reconstruction, and was swiftly ejected from office after the accident; the city is still recovering from years of occupation by the Islamic State, and al-Akoub has been accused of misusing funds intended for the recovery effort. These frustrations were evident Friday when he attempted to visit a memorial service for the victims: bystanders chased off his motorcade by throwing bricks.
Amazing scene captured by @AliBaroodi at #Mosul protest today. Mosul governor driven out by protestors after sinking of boat Thursday with almost 100 dead. Separated from his driver, he escapes as protestors throw bricks, demand he resign. pic.twitter.com/lPBJTQuiP7

— jane arraf (@janearraf) March 22, 2019