After Buying Keppel O&M, Sembmarine Renames Combined Firm "Seatrium"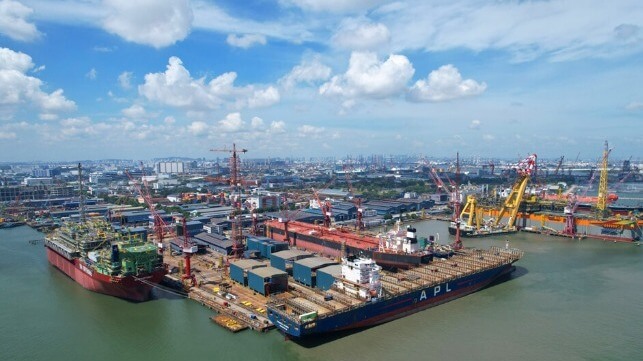 Following its landmark acquisition of Keppel O&M, Singaporean offshore shipbuilder Sembcorp Marine plans to change its name to "Seatrium Limited," along with new branding for a new corporate identity.
According to Sembmarine, Seatrium is a combination of two words – "sea" and "atrium." It was picked to convey Sembmarine's interest in retaining its status as a "premier global player providing innovative engineering solutions for the offshore, marine and energy industries." The final selection was chosen from a roster of more than 1000 possible names, after a "rigorous process of legal and linguistic screening" to make sure that the final choice would work.
The name change won't have any impact on Sembmarine's operations or finances, the firm said.
Sembcorp and Keppel first signed a deal to explore merging their offshore shipyard divisions in mid-2021. Those talks materialized in the form of an initial merger agreement in April 2022, planning to seize "opportunities arising from decarbonization in the oil & gas sector and from the global energy transition towards renewables."
In October, the deal was restructured as an acquisition to speed up the transaction. Sembcorp Marine agreed to buy Keppel O&M, accelerating the process by reducing certain lender and shareholder consent requirements. Keppel O&M shareholders would end up owning a 54 percent majority stake of the combined entity. This $3.4 billion deal was approved by shareholders and completed in February.
Keppel Corporation reduced its retained interest in the combined firm as part of the deal, and it plans to focus on its real estate, utility, data center, telecom, finance, and logistics business lines going forward.
Going forward, the newly-renamed Seatrium is well positioned to reap the rewards of an offshore oil and gas revival. Global offshore spending is expected to hit $100 billion per year for the next two years, according to Rystad Energy - a volume of investment that will require a new generation of rigs, OSVs and FPSOs.