After a Year of Repairs, HMS Prince of Wales Gets Under Way at Last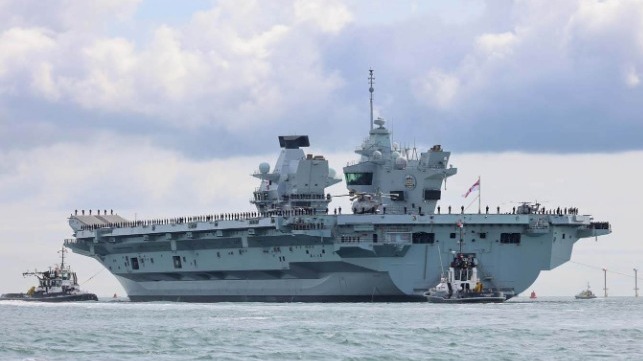 The long-troubled aircraft carrier HMS Prince of Wales has recovered from a protracted repair period and is under way for the United States, according to the Royal Navy.
The $4 billion carrier was the most expensive warship ever built for Britain, but she spent spent more time undergoing repairs than under way since her delivery in 2019. In August 2022, she was set to depart Portsmouth and cross the Atlantic for joint exercises with the U.S. Navy, her first high-profile deployment - but it was not to be. Shortly after leaving the dock, the carrier was forced to anchor due to technical issues. An inspection revealed that a coupling had failed on her starboard shaft, causing significant damage to the shaft and propeller.
After a wait for an extra-high tide, Prince of Wales was moved back to drydock to pull the shaft and make repairs. The cost and scope quickly increased: once she was out of the water, inspectors found similar problems with the port-side shaft, and the Royal Navy decided to make repairs to both as a precautionary measure. This pushed back Prince of Wales' return to service to the fall of 2023.
That moment has arrived, and Prince of Wales is under way for America at last. The carrier will operate off the U.S. East Coast, working with the U.S. Navy to trial attack drone operations, push the boundaries for F-35 launch and recovery conditions, and get more experience with the MV-22 Osprey tilt-rotor aircraft.
"We are all excited for the longest deployment of HMS Prince of Wales," said Commanding Officer Captain Richard Hewitt. "Being the first to operate with this level of drones will be a huge achievement and keep us on the front foot as we prepare for the next major Carrier Strike Group deployment in 2025."
The air wing will be testing the Mojave drone, which can carry a 1,500-pound payload of missiles, rockets or bombs and has been designed to land and take off from short runways or flight decks. They will also trial a drone system for underway replenishment with capability for carrying up to 100 kilos of goods at a time. If successful, this will cut down on expensive helicopter flight time.