Abu Dhabi Companies "Print" World's Largest Water Taxi Using 3D Tech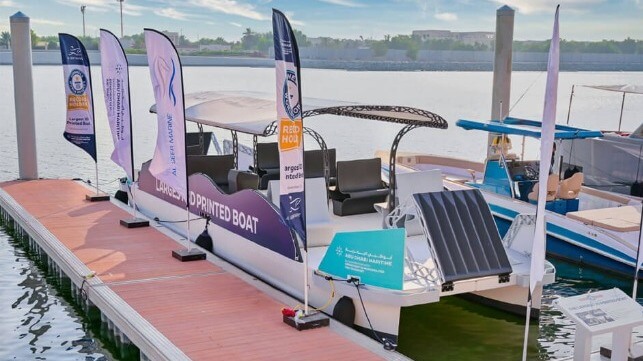 The world's first 3D printed water taxi is on display at the Abu Dhabi International Boat Show. The vessel secured the Guinness World Record as the Largest 3D Printed Boat and according to the companies is "a giant leap toward sustainable transportation."
The record shows that the vessel is 389 feet in length and 12 feet wide. It is 6.4 tons and powered by two 15 kW electric thrusters. It has a catamaran hull and bench seating plus a foldout boarding ramp at each end.
The vessel was "printed" as part of a partnership between Al Seer Marine and Abu Dhabi Maritime, part of the AD Ports Group, which is focusing on sustainable transportation. They also plan to use eco-drive systems to further enhance the sustainability of the efforts. Al Seer launched its additive manufacturing business unit in January 2022 to leverage the latest additive manufacturing technologies for the company's in-house manufacturing of unmanned vessels and vehicles.
The hull for the water taxi reportedly took 11 days to produce. The vessel is crafted of 67 percent recycled materials.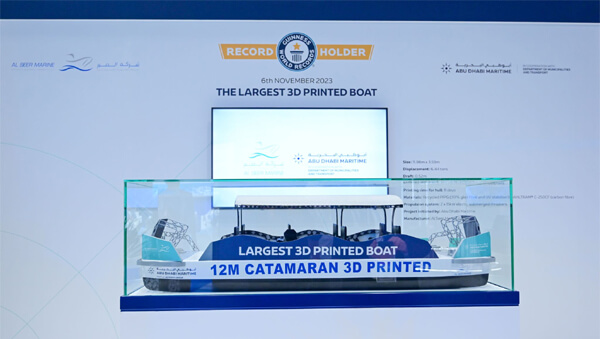 "This achievement is a testament to our shared commitment to pioneering engineering and eco-conscious practices. The collaborative efforts of Al Seer Marine and Abu Dhabi Maritime have given rise to a new era in maritime transportation, emphasizing sustainability and inclusivity as core principles," the company wrote in a social media posting.
They were the latest in a series of efforts to use additive manufacturing, i.e. 3D printing, for the benefit of the maritime industry. Most of the efforts have focused on using the technology to craft replacement parts but the University of Maine's Advanced Structures and Composites Center was the first to build a large boat using the technology. In 2019, they received the award from Guinness after "printing" a 25-foot, 5,000-pound 3D-printed boat, named 3Dirigo. They reported that they were able to manufacture the boat in 72 hours as part of several demonstrations to produce the world's largest constructions using the technology.
The University of Maine Advanced Structures and Composites Center achieved a groundbreaking milestone in composite manufacturing at the beginning of 2022 with the production of two 3D-printed prototype logistics vessels for the U.S. Department of Defense. They reported that the longer of the two vessels, the largest ever 3D-printed, simulated ship-to-shore movement of 20-foot containers representing equipment and supplies. The second vessel could transport a Marine rifle-squad with organic equipment and three days of supplies. The prototypes could also be connected, maximizing the transport capability of a single-tow vehicle. The vessels manufactured by the UMaine Composites Center are multimaterial composites with engineering polymer and fiber reinforcement.