A "Mattress Issue" is Part of the Navy's Serious Fatigue Problem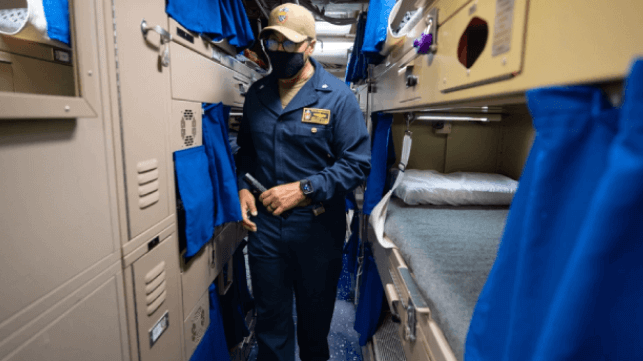 After two deadly collisions between destroyers and merchant ships in 2017, the U.S. Navy issued a series of policy changes intended to improve training and reduce fatigue. The investments in training are well under way, but the service has made little progress on reducing chronic sleep deprivation among sailors at sea, according to the Government Accountability Office.
Fatigue is a constant companion in the annals of marine casualties, and is enough of a problem that merchant ships are supposed to follow hours of work and rest limits under the Maritime Labor Convention (often but not always observed). Warships are exempt, and the average U.S. Navy sailor in the surface force gets 5.25 hours of sleep per night, the service recently told Congress - well below the 7.5-hour minimum that the Navy would like to maintain.
While health is important, sailors' ability to think could be the more immediate concern. According to longstanding guidance from the National Institutes of Health, prolonged periods with little sleep tend to result in slower cognition, reduced working memory, poorer learning ability, reduced activity in the frontal lobe, and a tendency to repeat the same behaviors even when they don't work - all qualities associated with lower intelligence. Multiple studies show that prolonged periods with 4-6 hours of sleep produce poorer cognitive performance, and the test subjects are often unaware that they are underperforming. Beyond cognition, sleep deprivation is also associated with involuntary microsleeps, which have caused serious casualties in merchant shipping.
The decades-old body of research on sleep deprivation informed safety reforms in aviation, trucking and shipping. The Navy attempted similar improvements after the two deadly destroyer collisions in 2017, which both involved fatigue factors.
However, a GAO review in 2021 found that little had changed in the surface fleet's berthing areas. Crewing shortfalls still persisted on underway vessels, and most of the surface fleet was operating at 15 percent below baseline manning levels, leading to chronic overwork and less time for sleep.
In its 2021 review, GAO recommended eight ways that the Navy could operate with better-rested personnel. Most of the recommendations were accepted and closed, but one important item - "address the factors causing sailor fatigue" - was not resolved, GAO said in an update this month.
The first and most persistent root cause is undermanning. In 2021, GAO found that the Navy "routinely assigned fewer crewmembers to its ships than its workload studies determined are needed to safely operate them." Those conditions are unchanged today, GAO said - and with a 7,500-person recruiting shortfall this year, achieving near-term improvements may be challenging. The Navy is currently developing a 15-year plan to "fully crew the fleet," the agency said.
The second problem appears simple to fix. In a 2022 personnel survey, sailors report that "uncomfortable mattresses" are a leading cause of inadequate sleep on board. The standard Navy mattress (NAVSEA MIL-STD-1623) must meet extensive fireproofing requirements, but it is not rated for comfortability. This "mattress issue" remains unaddressed, and furthermore, the Navy told GAO that it has no "resource sponsor willing to examine it further and fund mattress improvements across the fleet." For the interim, the mattress replacement cycle can be sped up to every three years instead of every five, but "the discomfort issue remains," GAO said.
In a response to GAO's report, the Navy acknowledged the issue and said that it "will continue to advocate for fully manned ships . . . and improved mattresses and rack curtains."