PDVSA Receives New VLCC From China
Venezuela announced delivery of a very large crude carrier (VLCC) on Friday that the oil minister said was the first of four new tankers that state oil company PDVSA is expecting from China.
The televised reception for the new ship, the Ayacucho, came after sources told Reuters a push by state oil company PDVSA to replace and expand its fleet was stumbling.
"Its a ship that loads 2 million barrels. Never before have we had one like this in Venezuela," Petroleum Minister Rafael Ramirez said on state TV, flanked by PDVSA workers.
"It's almost as big as an aircraft carrier ... It is the aircraft carrier of the Fatherland, of sovereignty!"
The minister said Venezuela expected to take delivery of a second VLLC from China in November (the Boyaca), a third in May 2014 (the Carabobo), and a fourth (the Junin) soon after that.
The VLCCs are too big to dock at Venezuelan ports, and will instead be loaded in Curazao and Bonaire, where PDVSA has deep-water storage terminals.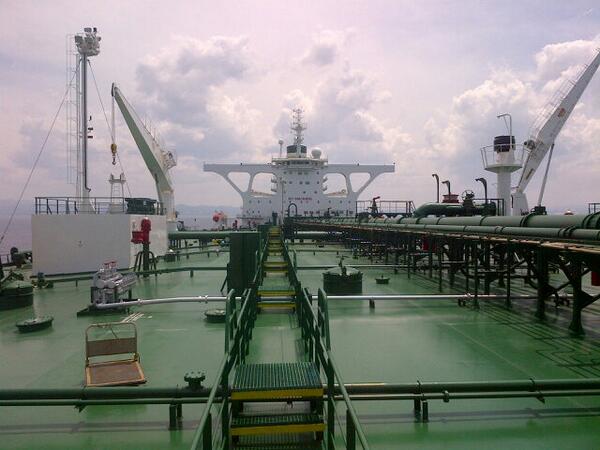 Ship tracking data showed the Ayacucho began its first journey in January from China, and then made several trips to Singapore, the United Arab Emirates, Iraq, Kuwait and the U.S. Gulf, before being anchored in Venezuelan waters since August.
Also on Friday, Venezuela took delivery of a smaller Suezmax tanker from Greece, the Rio Arauca, which can load 1 million barrels. Ramirez said PDVSA itself was now shipping half its exports using its own maritime fleet.
Five sources said this week that three new tankers from shipyards in Iran, Argentina and China never set sail - despite PDVSA hailing their respective launches in its 2012 report. The one from China was the Carabobo, now expected next May.
Ship brokers, a PDVSA source, and a shipbuilder offered explanations for the delays ranging from lack of payment to manufacturing hiccups. The delays mean higher freight costs for the financially-strapped company.
Copyright Reuters 2013.