$28 Billion to be Spent on Asian Oil and Gas Projects
An estimated 50 oil and gas fields in South East Asia, with a collective four billion barrels of oil equivalent resources, will likely be approved for development during the three-year period from 2018 through 2020, according to industry analyst Rystad Energy.
These fields will require $28 billion of capex from final investment decision (FID) to first production. The $28 billion is for greenfield opportunities available to 2020. Brownfield, maintenance and infill drilling activities at existing projects will consume more funds.
The project scopes in the $28 billion spend might not be as large as, and the competition as intense as, service providers would prefer, says Readul Islam, research analyst at Rystad Energy. Several of the 50 projects are later phases of earlier developments, with the largest infrastructure already in place. In Indonesia, for instance, Senoro Phase 2 will feed into an already installed LNG plant and further development at Bukit Tua will rely on existing processing facilities.
Sapura Energy, operating four of the 50 fields on the list, won't expect engineering, procurement, construction and installation contracts to move out of the company. "Competition could also be limited by the fact that some countries in the region have local content policies favoring domestic service providers," says Islam.
With 19 fields, Indonesia has the highest number of projects in the forecast. However, Malaysia dominates the tallies for both the resources developed (37 percent) and required capex (42 percent).
In Malaysia, Rystad Energy expects sanction of Mubadala Petroleum's Pegaga field during this quarter, potentially the largest regional individual field FID of 2018. Sapura Energy will try to progress some of the smaller fields at offshore block SK408 during the year.
The largest South East Asian fields, such as SK408's Jerun field, will see action closer to 2020. "After the 2018 elections, whichever partner Petronas brings in will need some time to properly study the CO2 content issues before finally approving the biggest prize in our time horizon — Kasawari," Islam predicted.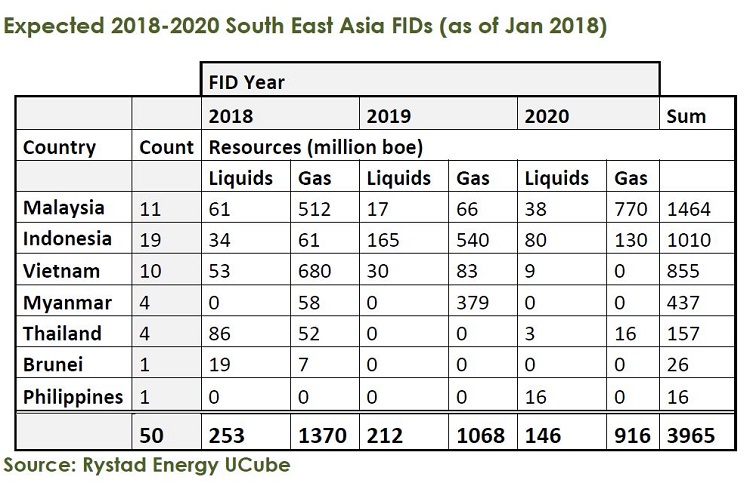 FIDs over each of the next three years will be heavily gas weighted; gas makes up 85 percent of the resources reaching FID over the full period. The largest in 2018 will come from Vietnam, with the lion's share coming from the expected approval of the Block B project.
Most of the gas resources to be developed in Indonesia and Malaysia will be supplied to existing LNG plants. Brunei, Indonesia and Malaysia have long running LNG projects where the new sources of supply will ensure these projects maintain their long-term commitments.
However, there's more to the coming regional gas glut than honoring LNG obligations. "Strong economic growth has led to burgeoning domestic gas demand throughout the region. The resulting uptick in local gas prices as well as the pollution profile of the fuel compared to alternatives means both operators and governments are incentivized to push natural gas projects," said Islam. "Countries such as Myanmar, with offshore gas discoveries and a still emerging local gas market, look set for an export boom."