Trifecta of Challenges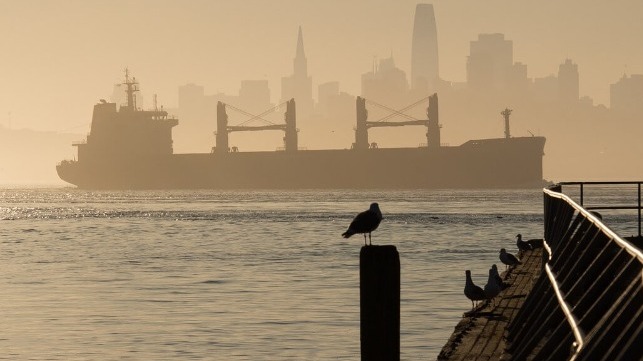 (Article originally published in Mar/Apr 2023 edition.)
Bulk carriers, boxships, cruise vessels and workboats all have one thing in common: They require reliable propulsion to get from port to port. Regardless of what they're transporting, towing or pushing, every conventional vessel needs a smooth-running engine with the right engine lubricants and fuels to make the voyage.
A thin layer of lubricant – often less than a thousandth of an inch thick - is all that keeps engine components from rubbing together. Any shortcomings in lubricant performance will show up later in the form of accelerated engine wear and increased maintenance costs.
The lubricant's additive package has to be just right to do this job well. Lubricity has to be high enough to keep down wear. The base number has to match the fuel's sulfur content, and the formula has to have enough detergency to clean out the inevitable soot from burnt residual fuel oil.
The industry solved this trifecta of challenges for high-sulfur heavy fuel oil many decades ago. Higher base number (BN) lubricants have extra additives to neutralize the acids produced by burning sulfurous fuel in a two-stroke engine. As a happy coincidence, these additives also provide superb detergency, solving two problems in one step.
Transition
This formula served maritime commerce well from the 1950s up through 2020 when the IMO began to require the use of Very Low Sulfur Fuel Oil (VLSFO). The transition forced vessel operators to switch to lower base number lubricants to match the new low sulfur content fuel – but with a catch. These lubricants also had less detergency, and shipowners quickly found that this translated into heavy carbon deposits and excessive wear in modern high-pressure two-strokes – specifically, the popular MAN Mark 9 and 10 platforms.
"This will have implications for cylinder oil selection in the future, as detergency becomes more important than acid neuralization capability," explains Milind Phadke, Vice President of Energy at lubricants consultancy Kline Group.
In mid-2022, after two years of R&D and testing in the field, most major lubricant suppliers debuted new 40 BN oils that decouple detergency from base number. Gulf Oil's GulfSea Cylcare XP 5040X, Shell's Alexia 40 XC, Chevron's Taro Ultra Advanced 40 and ExxonMobil's MobilGard 540 AC all rival BN 100 oils in maintaining cleanliness in modern, high-efficiency two-strokes – while also providing the low 40 BN base number needed for VLSFO.
The decoupling of detergency and base number may also give these new lubricants a leg up on the green transition: Many of them are also dual-rated for use with other low-sulfur fuels like LNG and methanol, which will play a starring role in the industry's decarbonization.
Methanol is the green fuel of choice for Maersk Line, which has ordered 19 container ships with dual-fuel methanol engines including six ultra large container vessels with a capacity of 17,000 TEU each. Just like any other vessel with a two-stroke diesel, these ships will need proper lubrication, and low BN oils are ready and available to provide it.
Lube Oil Monitoring
With all of these changes in the fuel market, lube oil monitoring is more important than ever, and the lubricants industry is responding with sophisticated digital solutions.
ExxonMobil took a step ahead of the pack last year through a partnership with Palantir, an analytics provider for big-name customers like IBM, HD Hyundai and the U.S. Navy. Exxon is adding the capabilities of Palantir's Foundry digital platform to its Mobil Serv Cylinder Condition Monitoring service, which enables onboard scrape-down oil analysis for rapid identification of lubrication issues.
The objective is to use Palantir's advanced analytics to protect engines from premature wear by spotting problems early. Ship managers will also be able to compare their vessels' performance to (fully anonymized) data from other vessels in ExxonMobil's database. At the same time, the data tools will help ExxonMobil's R&D efforts by yielding hidden clues about lubricant performance.
"We can now fully leverage the big data we have gathered in our experience to develop and deploy even more powerful data-based insights when and where they're needed," explains Ioannis Chatzakis, Global Marine Technology Program Manager, ExxonMobil. "Vessel operators will be able to use this data for their own analysis within the platform and connect to existing vessel management platforms."
Shell's LubeMonitor condition monitoring service has also gone digital with an app-based one-stop shop for lubrication data. The LubeMonitor app allows engineers and ship managers to store all kinds of relevant information including photos and measurements from engine inspections, lab test results and technical advice from advisors in Shell's LubeAnalyst service.
This reduces the user workload of shifting back and forth between different systems for each function and report. It allows operators to easily compare their vessels against benchmarks – from the fleet level all the way down to individual engine cylinders. To maximize ease of access, the app is available via the Internet, on the Apple iOS and Android operating systems, as well as offline logbook formats.
Chevron takes a traditional approach to lubrication monitoring with its FAST (Fluid Analysis Service and Trending) program laboratory analysis network. Chevron uses well-equipped, ISO-certified labs in Antwerp and Shanghai to quickly analyze marine lubricant samples and provide tailored insights to its customers. The turnaround is fast, as the name suggests, and the resulting reports are posted in an online portal for ship managers to access at their convenience.
For vessel operators who wish to get even faster, up-to-the-minute information on the health of their engines and lubricants, the Chevron FAST OnBoard test kit allows engineers to perform DIY tests in the field. This identifies changes at the earliest possible stage, allows engineers to make changes and interventions immediately and encourages a hands-on monitoring culture in the engine room.
Unburned Fuel
Modern marine diesel engines are highly efficient, but even the best engines leave some fuel unburned.
At low-load conditions when the engine is below its designed operating temperature, incomplete combustion can account for upwards of two percent of fuel injected, according to emissions monitoring company SailPlan. This represents a cost to the operator in the form of wasted fuel and increased wear. Stack emissions of half-burned fuel (PM and PAH) also pose a health hazard to coastal populations.
Fuel additives can help by improving fuel combustion properties, reducing carcinogenic emissions and potentially saving opex at the same time. After all, fuel costs money, and unburned fuel is money escaping up the stack.
U.K.-based SulNOx Group specializes in fuel additives that promote complete combustion. Its LR-certified SulNOxEco fuel conditioner is a bio-based additive for diesel and MGO, and it improves both lubricity and fuel efficiency. The additives – designed by the specialty chemical giant Nouryon – create an emulsion that allows water in the fuel oil to completely mix, increasing the fuel's overall oxygen content.
This improves combustion efficiency and decreases combustion temperature, which helps reduce NOx formation. It can also reduce particulate matter emissions by up to 60 percent while offering eight-to-ten percent fuel savings. This is a straightforward way for shipowners to improve their Carbon Intensity Indicator (CII) rating, according to SulNOx.
"Many shipowners are talking of having to reduce vessel speeds to become compliant [with CII], which obviously comes at great commercial cost," says SulNOx CEO Ben Richardson. "However, with the proven improvements in fuel efficiency, power and torque from using SulNOx in fuels, we offer immediate, green solutions."
Current users trialing SulNOx products include OSV operator Caspian Marine Services (CMS) and Norwegian shipowner Myklebusthaug Management, among others. Myklebusthaug is particularly interested in SulNOx's ability to reduce NOx emissions, which are taxed in Norwegian waters. Norway's $2.30 per kilo NOx tax is based on a combination of fuel consumption and engine performance measurements, and it's high enough to incentivize operators to institute controls.
Mykelbusthaug will be testing SulNOx fuel additives aboard two ships and evaluating the effects.
U.K.-based supplier FAST (no relation to Chevron) has a long history in over-the-road fuel additives and is seeing increasing interest in its marine formulations as well. Its Exocet brand of fuel additives is designed to solve a range of common fuel problems like microbial growth in fuel tanks and water in fuel contamination.
FAST's Exocet Marine Fuel Conditioner is a multi-functional additive for inland and coastal marine diesel engines running on distillate fuel. According to FAST, it inhibits fuel tank sludge formation, prevents microbial growth, promotes a clean fuel system and inhibits injector fouling. One gallon of conditioner treats about 2,000 gallons of fuel, and a version formulated for heavy fuel oil is available.
The company also offers a specific formulation designed to restore diesel engine power by cleaning injectors as well as an all-purpose antimicrobial treatment to treat or prevent "bug" growth in fuel tanks.
Saving Money
These additives help vessel operators solve a wide range of operational and compliance challenges – from exhaust pollutants to fuel incompatibility, sludging, coking and tank deposits. In many cases, this is cheaper than attempting to make the same changes by altering vessel speed or engine configuration.
Solving specific issues with an additive treatment can get a vessel back into service without extended downtime – and a routine conditioner regimen may be able to prevent problems from ever occurring in the first place.
The opinions expressed herein are the author's and not necessarily those of The Maritime Executive.