AD Ports Scoops Deals to Develop New Terminals in Congo and Egypt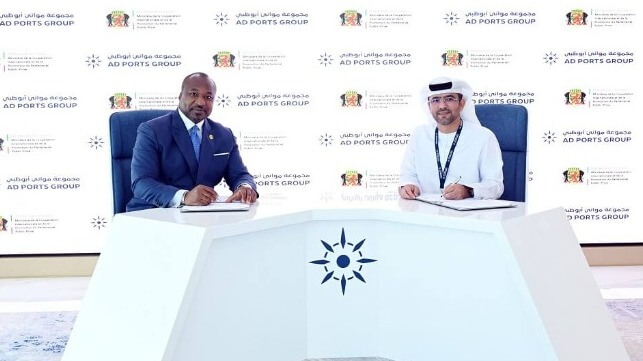 In the latest step in its expansion plans in Sub-Saharan Africa, UAE terminal operator AD Ports has scooped another deal to develop a new multipurpose terminal in Pointe-Noire in the central African nation of Congo. The deal followed signing of Head of Terms (HoT) between the AD Ports and the country's Ministry of International Cooperation and Promotion of Public Private Partnership.
Under the HoT, AD Ports Group has exclusive right to invest in the development, operation and management of the New Mole Port, which is expected to handle containers, general cargo, break-bulk and other types of cargo.
In addition, AD Ports will also provide the new facility with digital services and technology, including design, implementation and operation of a single-window platform and terminal business analytics.
The agreement will run for one year and paves way for a concession at the expiry.
"We see significant potential for developing a multipurpose terminal at the Port of Pointe Noire, particularly given the port's key role in the energy sector," commented Mohamed Juma Al Shamisi, AD Ports Group CEO.
The strategic position of the port of Pointe Noire, located in the Gulf of Guinea halfway between Cape Town in South Africa and Dakar in Senegal, gives it a competitive advantage to develop into a transshipment hub on the West African coast. In fact, it is one of the few ports in the region with direct access from the sea.
To boost its status, the Congo's new National Development Plan (NDP) has prioritized modernization of Pointe Noire Port. Its current maximum capacity is 1.2 million TEU.
Recently, Pointe Noire received its first largest containership, the MSC Virgo, a 366 meter 15,000 TEU Vessel. The arrival of the containership is part of MSC's expansion plans to extend its network in Sub-Saharan Africa by redesigning its service to the West African coast. MSC is eying the port of Pointe Noire as a transshipment base for its Central Africa operations, enabling direct and quick exchanges with Asia and Europe.
New agreements in Egypt
On Saturday, AD Ports announced that it has signed a concession agreement to develop and operate a multi-purpose port in Safaga, Egypt. The group signed a 30-year deal with the Red Sea Ports Authority that allows AD Ports to develop and operate a multi-purpose terminal at Safaga on Egypt's Red Sea coast.
Safaga Port will be the first internationally operated port in this part of Egypt, and will be in operation by mid-2025. The terminal will have a 1,000 meter quay, with space for dry bulk, liquid bulk, containerized and ro/ro cargoes. AD Ports plans to invest up to $200 million in its development and equipment.
In addition, AD Ports secured two 15-year concessions to build concrete terminals at Egypt's Al Arish Port and West Port Said Port, along with a preliminary agreement to partner on developing a multipurpose terminal at Port Said.