WWL's Hero Class Fleet Expanding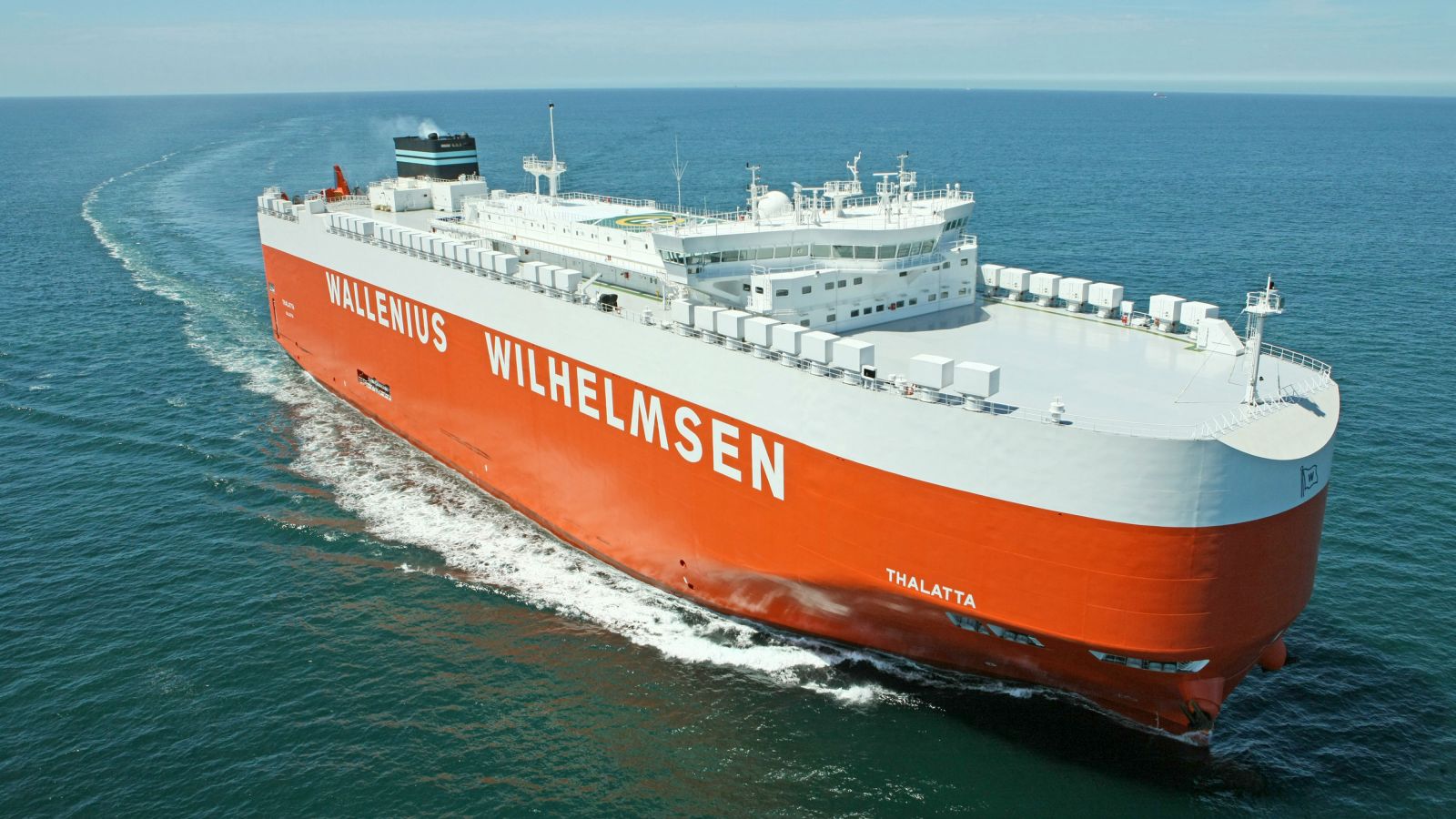 For more than a century, the Panama Canal has restricted the width of vessels operating on the world's seas. Now the prospect of a wider set of locks is giving operators the freedom to widen their vessels.
Wallenius Wilhelmsen Logistics (WWL) has been preparing for the opening of the expanded canal since 2010 with the design of its next generation RoRo carriers. Two of its latest HERO-class vessels are already in service. Four more are due to be delivered this year and another two early next year.
The HERO class is a form of hybrid between a RoRo vessel and a Pure Car and Truck Carrier (PCTC), offering the flexibility of a RoRo carrier combined with the lightness of a PCTC.
One of the key design goals was to improve capacity and flexibility and accommodate a much greater and wider variety of cargo. Consequently the new HERO vessel includes liftable decks that allow for multiple configurations.
Another key requirement from many stakeholders, which is also in line with WWL's ambitions for a zero emissions future, is the need to reduce the vessel's carbon footprint. To this end, the HERO class includes a number of innovations to help reduce fuel consumption and its environmental impact as well help it operate more efficiently in a wider range of conditions. For example, their Rolls-Royce Promas rudder system decreases drag and improve surrounding water flow, causing less strain on the engine. In addition, the novel bow design reduces wave resistance and by extension overall fuel consumption.
The post panamax dimensions, significantly wider than previous vessels, means the vessels are inherently more stable. Thus they require less ballast water, reducing the invasive species risks and making a positive contribution to efficiency.
The HERO class has been designed to support WWL's zero damage cargo quality objective. During loading and unloading, a ship might be compared to a parking garage, and WWL wanted to ensure that maneuvering inside it would be as easy and risk-free as possible. To this end, the number of pillars in the ship has been limited, while their design is intended to be as non-obstructive as possible. Further, the width of the stern ramp has been extended from the standard seven to 12 meters to allow for more efficient and safer flow of traffic on and off the ship.
As shipping continues to become more globalized and trade routes become more intricate, there is a growing need to access ports in many developing countries, where depth can often be an issue. To help combat this, HERO vessels have a shallower draft, enabling them to dock into more ports than other vessels.
In some countries, such as Japan, ports restrict vessel length to 200 meters. With the HERO class, WWL has extended cargo capacity considerably, without adding to vessel length.
The first HERO vessel, Thermopylae, was delivered early in 2015. The ship is fitted with a Wärtsilä hybrid scrubber that allows the main engine to be run on heavy fuel oil while reducing sulfur emissions to below 0.1 percent in compliance with ECA requirements. This system removes over 70 percent of particulate matter and significantly reduces NOx emissions.
The hybrid scrubber is run in closed-loop mode while in port, using fresh water to remove the impurities from the exhaust gas. In open-loop mode at sea, it uses sea water and re-oxygenates the water before discharge overboard.
The vessel's engine is an electronically-controlled, MAN B&W S60ME-C8 two-stroke main engine, and it is coupled to a single, fixed pitch propeller. A single bow thruster improves maneuverability.
The Thalatta joined the Thermopylae in April 2015. As with Thermopylae, the Thalatta was built at the Hyundai Samho Heavy Industries shipyard in South Korea.
WWL's ocean transportation business operates about 55 pure car and truck carriers on 12 routes to six continents.
Details
Length: 199.99 meters (650 feet)
Width: 36.5 meters (120 feet)
Ramp capacity: 320 tons and 12 meters (40 feet) wide
Main deck height: 6.5 meters (21 feet)
Speed: 10 - 20 knots
The opinions expressed herein are the author's and not necessarily those of The Maritime Executive.