Holocaust Remembrance Day: The MS St. Louis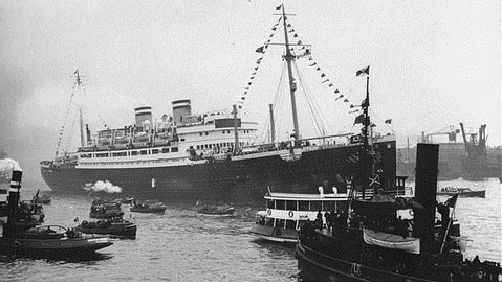 May 4 was Holocaust Remembrance Day, a day, says U.S. Secretary of State John Kerry, to pause and reflect on the irredeemable loss of six million Jews and countless Poles, Roma, LGBT people, Jehovah's Witnesses and persons with disabilities who were brutally murdered by the Nazis.
"Many in our country lost loved ones in the Holocaust. As I have learned in the past decade, some of my own relatives were among those who perished in Auschwitz, Terezin, Sobibor, and Dachau. But the lessons of the Holocaust, and the need for remembrance, are universal, and as relevant to everyone today as they were seven decades ago.
"All of us should remember that many Jews fleeing violence and extremism were denied entry to our ports. All of us must stand firmly and resolutely against resurgent anti-Semitism, sectarian hatred, and bigotry in our time. All of us must act to confront discrimination on the basis of race or religion, insist on the rule of law in relations between nations and peoples, and do all we can to uphold the fundamental dignity of every human being.
"In the words of Elie Wiesel, "One person of integrity can make a difference." In that spirit, it is our responsibility – individually, collectively, globally – to denounce injustice and prevent genocide. It is our duty to combat intolerance and prejudice in any form.
"It is our solemn obligation to not only preach compassion, but practice it – and to do all we can to ensure that "never again" is a promise not only made, but kept."
Fleeing on the MS St. Louis
The MS St. Louis was a German ocean liner most notable for a single voyage in 1939, in which its captain, Gustav Schröder, tried to find homes for 908 Jewish refugees from Germany. After they were denied entry to Cuba, Canada and the United States, the refugees were finally accepted in various European countries. However, historians have estimated that approximately a quarter of them subsequently died during World War II.
On the voyage from Hamburg, crew members treated the passengers well - Schröder insisted on it. However, the Cuban government, headed by President Federico Laredo Brú, refused to accept the refugees and only 29 were allowed to disembark. Although many passengers had previously purchased legal visas, the visa laws had recently been changed.
Schröder then took the ship to Florida. It is not known why Schröder did not proceed to the Dominican Republic, whose officials at the Evian Conference in July 1938 offered to accept 100,000 Jews.
Some histories recount that on June 4, 1939, Schröder believed he was being prevented from trying to land the St. Louis in Florida. Reports from that time were conflicting. Legally the refugees could not enter the U.S. on tourist visas, as they had no return addresses. The U.S. had passed the Immigration Act of 1924 that restricted numbers of new immigrants from eastern and southern Europe.
Schröder circled off the coast of Florida after leaving Cuba, hoping for permission to enter the U.S. At one point, he considered running aground along the coast to allow the refugees to escape. However, he was shadowed by U.S. Coast Guard vessels that prevented such a move. U.S. Coast Guard historians maintain the two cutters involved were not ordered to turn away the St. Louis, but dispatched out of concern for those on board. Ultimately, however, the United States did not allow entry of the refugees, neither did Canada.
Schröder, a non-Jewish German, personally negotiated on behalf of the passengers, trying to find a safe haven for them. He refused to return the ship to Germany until all the passengers had been granted entry into another country. So, the ship returned to Europe, docking at Antwerp, Belgium, on June 17, 1939 with 907 passengers.
The U.K. agreed to take 288 of the passengers, 224 were accepted by France, 214 by Belgium and 181 by the Netherlands. The ship then finally returned to Hamburg.
Research by Scott Miller and Sarah Ogilvie of the United States Holocaust Memorial Museum estimated that 254 of those returned to Europe died during the war. Most were murdered in Auschwitz and Sobibór. The rest died in internment camps, in hiding or attempting to evade the Nazis.
After the war, Schröder was awarded the Order of Merit by the Federal Republic of Germany. In 1993, Schröder was posthumously named as one of the Righteous among the Nations at the Yad Vashem Holocaust Memorial in Israel.
St. Louis departs Hamburg
The opinions expressed herein are the author's and not necessarily those of The Maritime Executive.