Philippine Military Fights Pirates on the Ground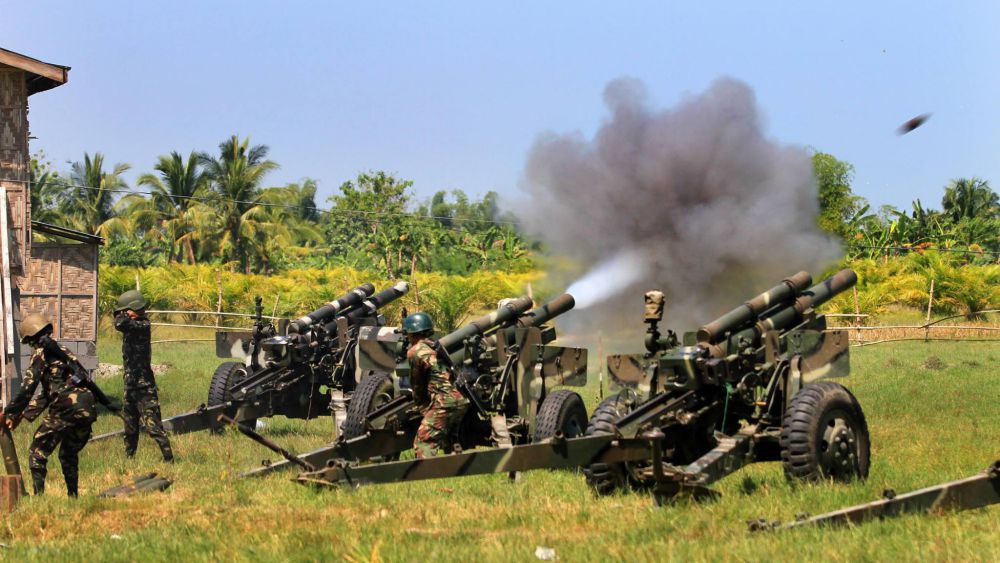 On Saturday, the Armed Forces of the Philippines (AFP) recovered the body of German yachtsman Jurgen Kantner, who was beheaded by the Islamist terrorist group Abu Sayyaf (ASG) last week. The kidnappers demanded a ransom for Kantner's release by February 26, and when the deadline passed, they executed him and released a video of his death online.
Over the last year, ASG has made the Sulu and Celebes Seas the riskiest region in the world for maritime piracy, easily outpacing other hotspots like the Straits of Malacca and the Gulf of Guinea. Kantner was the fifth civilian killed in Abu Sayyaf's kidnapping campaign since last April, and the group still retains over 30 hostages, most of them seafarers.
The abductions and killings have sparked outrage in the Philippines, and the government is engaged in a full-scale military campaign against Abu Sayyaf. Its naval vessels might not be fast enough to catch Abu Sayyaf's speedboats, but it has deployed 10,000 troops to attack the group on its home territory, the islands of Sulu and Basilan.
The surge is the latest uptick in a 20-year effort that has suppressed Abu Sayyaf's activities but has never succeeeded in completely eliminating the group itself. The long-running conflict shares the challenges of many other counterinsurgency operations: a local populace that has ties with fighters and distrusts outside forces; widespread poverty, which makes it easier for the insurgents to hire new recruits; difficult terrain, which slows down troop movements and allows fighters to hide; and illegal activity that funds the insurgency – in this case, maritime piracy, which netted ASG more than $7 million last year.
In its latest assault on Abu Sayyaf, the government has adopted several well-established counterinsurgency tactics. To win hearts and minds, it has tried to bring in new investments to create less destructive forms of employment. Militarily, it is occupying villages and destroying Abu Sayyaf's known bases of operation, with help from another Islamist faction, the Moro National Liberation Front (MNLF). The armed forces are also reported to be removing the population from areas of military activity, a tactic often referred to as forced relocation; however, aid groups contend that this may hurt (and alienate) the populace more than it affects Abu Sayyaf itself.
"People are suffering because, let's say during harvest time when there are fruits and coconuts, they want to harvest, but the military is holding operations. They are not allowed to go back" for the harvest, said Sheikh Gustaham Loderson of Zamboanga, Sulu, in an interview with Southeast Asia Globe. "It will even contribute to the violence, because if people have no jobs and, because of the ransoms, Abu Sayyaf has its own money, then they can [find it easier to] recruit." And with fewer prospects for a better life, the young may become more inclined towards "more extreme ways of thinking and acting," Loderson warns.
"For the locals [the violence] is normal because it is non-stop. These children, they have nothing to do with their lives, so they will join," said Kalma Isnain, the executive director of a local NGO.
For its part, the government says that it is near victory in the battle against Abu Sayyaf, and it claims that the relocation strategy is working. "Right now we are holding their strongholds, they are outside their comfort zones, that's why it's easier for us to defeat them because they've been driven into areas where they do not enjoy the support of the community," said Colonel Cirilito Sobejana, commander of Joint Task Force Sulu, in a recent interview with Manila Times. His biggest challenge? Ever-present mangrove swamps, where his troops get stuck in mud "up to their waists."
The opinions expressed herein are the author's and not necessarily those of The Maritime Executive.