The Power of JAXPORT: Unlock it for Your Business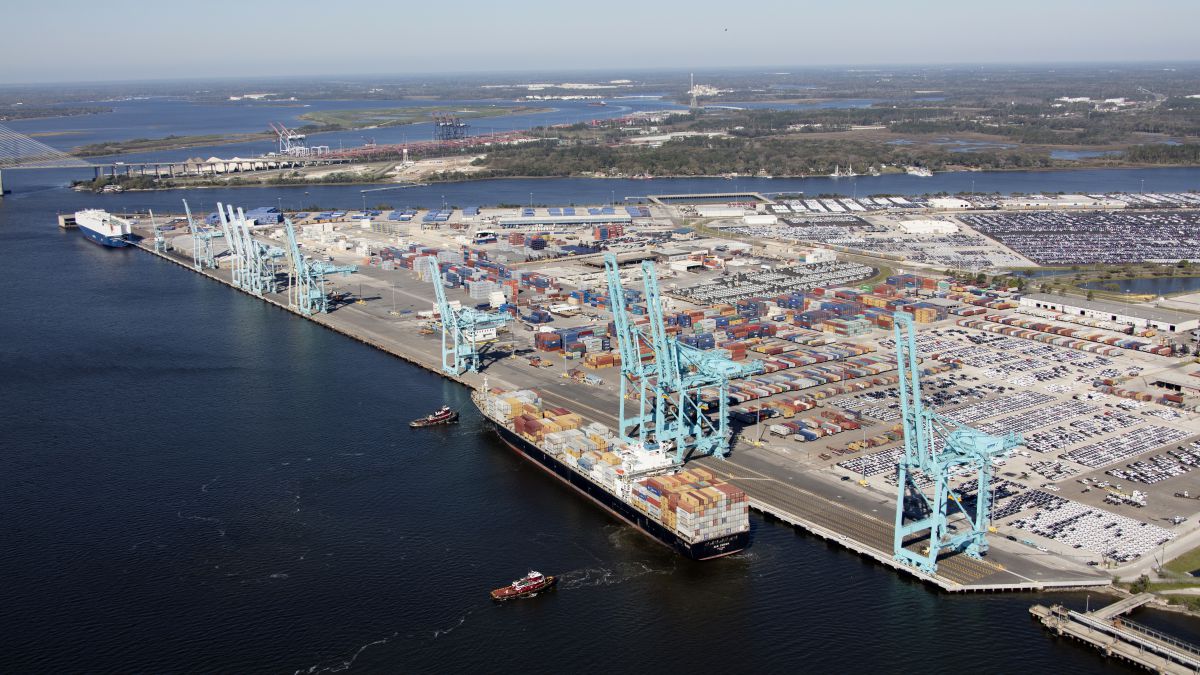 [Advertorial]
The Port of Jacksonville (JAXPORT) is located in Northeast Florida, the heart of the nation's fast-growing Southeast region, with excellent connections to in-demand markets. It is a diverse, established and experienced seaport attracting intense global interest thanks to an outstanding selection of logistics assets and extras.

With impressive cargo terminals welcoming cargo of every shape and size, JAXPORT is uniquely equipped to help shippers and carriers move to the next level. Looking for faster, more cost effective distribution and deliveries? A healthier cash flow? Satisfied, committed customers and employees? You will find it all ? and more ? at JAXPORT.

Today, Jacksonville's terminals handle more containers than any other Florida port. The port offers direct routing via both the Panama and Suez canals. It is served by the globe's three largest ocean carrier alliances and a total of 40-plus carriers in all, covering the world's key markets. JAXPORT is the second busiest vehicle port in the nation and has long reigned as the number one port for Puerto Rican trade.
Investing in growing capacity
With the start of construction to deepen its channel to 47 feet, JAXPORT is positioned to accommodate more cargo aboard the largest ocean carriers. Within the last decade Asian volumes through JAXPORT have grown from a handful of boxes to 35 percent of its container business – with major growth projected to continue.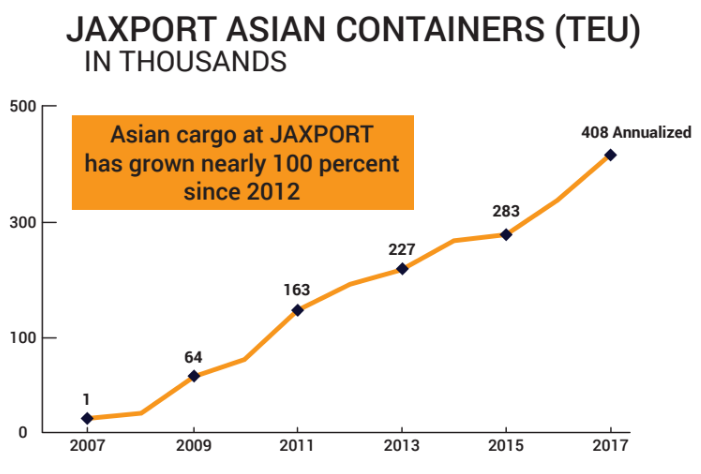 Local markets, as well as those throughout the Southeast U.S. and north to the Midwest, are helping fuel an Asian trade surge. The U.S. market for Asian imports through JAXPORT is seemingly insatiable – the timing is perfect to expand Jacksonville's competitiveness and capacity with a deeper channel.

JAXPORT offers a champion line-up of port services and amenities, in part thanks to $600 million in recent investment. Three new 100-gauge container cranes recently added to the port's existing lineup of post-Panamax equipment, upgraded docks and berths, and an ultra-efficient $30-million Intermodal Container Transfer Facility are the latest assets to sharpen the port's competitive edge.

Roy Schleicher, JAXPORT's Executive Vice President and Chief Commercial Officer, says that the extraordinary improvements are proving indispensable to carriers and big logistics customers with massive distribution centers.
Distribution Center Cluster Anchors Ocean Capacity
Jacksonville's rapidly growing distribution center cluster supports its growing carrier capacity. According to the most recent CoStar Industrial Report, Jacksonville offers as much industrial space as both Savannah and Charleston combined, while offering more available space at a lower average cost per square foot (below).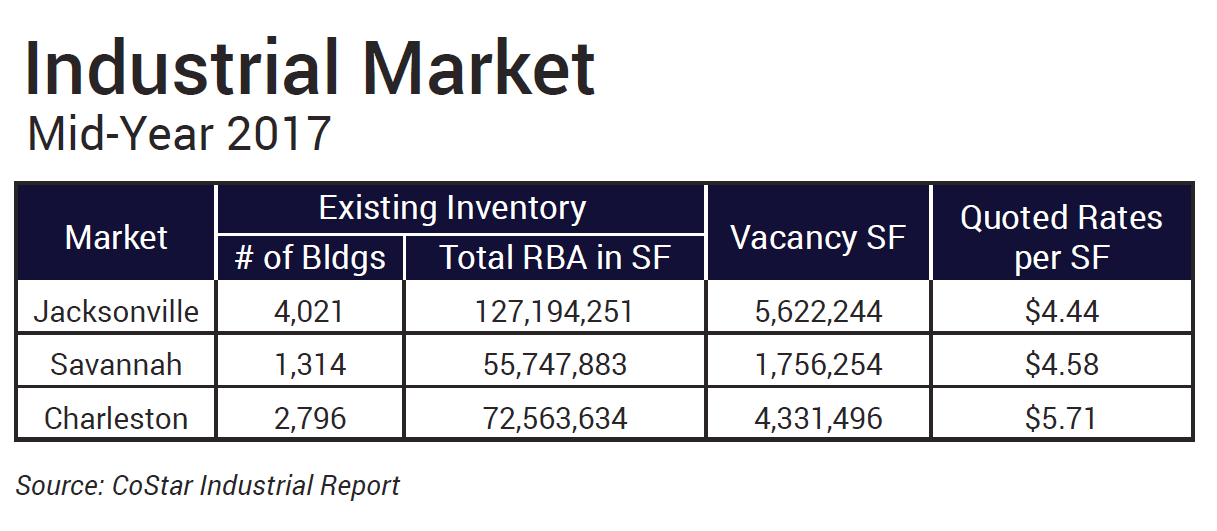 The region's distribution, cross-dock and transload facilities are flourishing, thanks in part to more than 120 million square feet of warehousing and distribution space in Northeast Florida. This development is driven by the unique regional commitment to efficient logistics and by a skilled and diverse workforce. JAXPORT's proximity to an unbeatable inland highway and multi-line rail network (including three U.S. interstates, plus 36 daily train departures via three railroads), offers direct and efficient access to 20 million Florida residents, in addition to the state's 112 million annual visitors – and reaches more than 60 million consumers within a day's drive.

Household names such as Coach, Bridgestone Americas, Bacardi, Samsung and 1-800-Flowers have long understood Jacksonville's advantages, and there are still land parcels aplenty for build-to-suits, plus appealing leaseholds and spec buildings.
FTZ Adds Value with Reach and Space
Northeast Florida is home to Foreign Trade Zone (FTZ) No. 64, encompassing eight counties and more than 5,000 square miles – another important advantage for shippers choosing JAXPORT. FTZs, situated within the U.S. but technically considered outside of U.S. Customs and Border Patrol jurisdiction, allow shippers to streamline clearance, efficiently manage cash flow and save a significant amount of money on imported cargo shipments or manufacturing and distribution operations.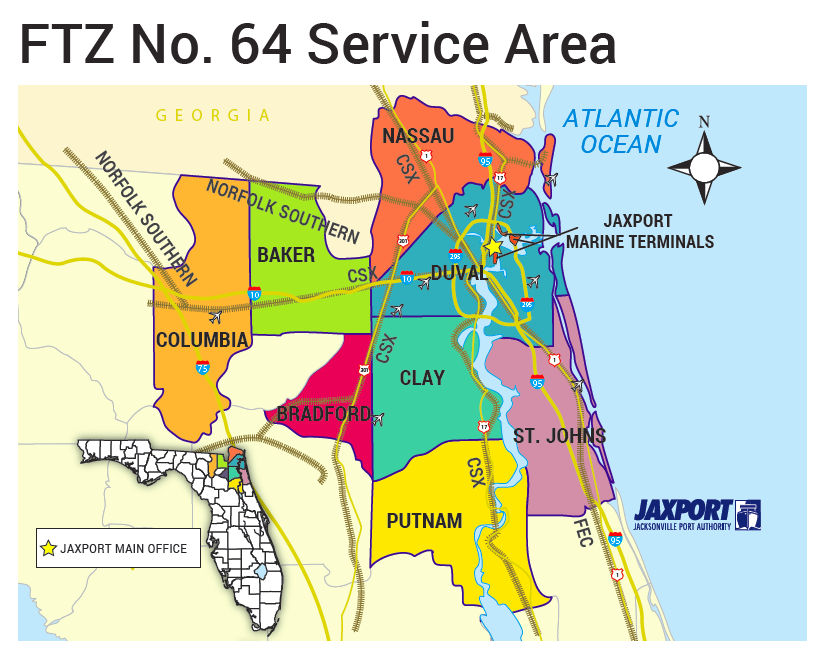 Lisa Diaz, JAXPORT Manager, FTZ and Northeast Florida Sales, oversees FTZ No. 64, which last year reached a total shipment value of $1.8 billion and ranked 16th in exports among the nation's more than 200 FTZs.
SYSCO Vice President of Supply Chain and Logistics Tim Crumley says that what struck him the most was the helpfulness of the team in Jacksonville. "JAXPORT's FTZ staff didn't just promote the attributes of the FTZ designation, they facilitated every detail of the process, right down to setting up meetings with Customs," said Crumley. "From the beginning they wanted to see us in FTZ No.64. They weren't trying to just constrain or control; there is a way to keep people and the food chain safe, while helping the port compete."

A Culture of Customer Service
Karen Fortson, Managing Partner at Cycle Up, a 3PL and DC operator which recently expanded into Jacksonville, is equally pleased. "JAXPORT is very customer-oriented. They go out of their way to connect you with services, suppliers and partners," said Fortson.

These aren't isolated cases. According to JAXPORT's Aisha Eccleston, Southeast Sales and Service Provider Relations, customer service is both a strategy and culture. "Some ports get caught up in the numbers and lose the human aspect. We don't ever want that. We genuinely appreciate people supporting our area," she said.

JAXPORT provides a wealth of services to carriers and shippers, each comprehensively filling supply chain needs. So if an inland backhaul rate in Jacksonville is a fraction of the going rate at a competitive port, or if a new technology to quickly transfer contents of a seabulk container exists to expedite its return to dock, JAXPORT will help find it.

Pinpointing the value proposition is JAXPORT's strength. Eccleston said, "Customer service permeates our labor force and all our port partners. If we put a carrier or shipper in touch with a partner, it is because we know they are going to take it and wrap it up beyond expectations."
The Backhaul Advantage
A recent analysis from independent source Truckstop.com showed trucking savings from Jacksonville to six top southern markets in comparison to costs from a competing Southeast port. The per-load savings from Jacksonville ranged from more than 17 percent into Atlanta, up to more than 39 percent into Montgomery, Alabama, with exceptional savings also registering for markets like Miami, Memphis, New Orleans and Orlando.

Because Florida is a consumption state, there are unique backhaul opportunities for trucking and rail. "We don't want to see equipment leave the state empty," JAXPORT EVP Schleicher said. "A properly positioned transload facility in Jacksonville can use empty equipment to offer better northbound and southbound economics than our largest competitors."

Area service providers ally with both shippers and carriers to provide almost limitless supply chain efficiencies. Cycle Up's Fortson outlined specific advantages of transloading in Jacksonville. She said that re-organizing cargo from 40-foot ocean to 53-foot domestic containers allows the expedited return of the boxes to dock and reduces the ocean rate to shippers. This is proving particularly valuable to ocean carriers with robust import business at JAXPORT because of higher asset utilization and limited repositioning of empties. In addition to reducing truck emissions and road-safe box benefits, transloading through JAXPORT also improves driver utilization.
Make the Shift – Your Solution is Here
JAXPORT's finest benefits for carriers and shippers come from its unique location at the top of Florida and within the high-volume Southeast U.S., complementing its extraordinarily competitive inland transportation connections and diligence in adding extra value. Once customers consider the port, they find bottom-line benefits and ultimately choose JAXPORT.

Cycle Up Managing Partner Tony Albanese expressed confidence in the slate of supply chain efficiencies offered in Jacksonville and said, "A convenient geographic location, reduced inland transportation costs and increased backhaul opportunities all make Northeast Florida an ideal location for expansion."

JAXPORT's 47-foot channel depth will be a growth magnet, with parallel and complementary investment creating even greater opportunities for carriers and shippers. The entire port community is gearing up for that growth.

The ability to load larger vessels more heavily and introduce new services offers greater efficiencies. Growing economies of scale will generate more freight volumes because JAXPORT has unparalleled terminal turns and favorable inland connection costs and networks.

Companies that faced labor, congestion and inland connectivity issues elsewhere – as far away as the U.S. West Coast – have already begun to shift cargo to service-focused Jacksonville, with exceptional results. They are discovering greater velocity and reliability, substantial carrier capacity and lower costs. The greater the complexity of a shipper's supply chain, the more opportunity for JAXPORT to add value.

The market is here. The growth is coming. Jacksonville is ready.
JAXPORT: It's Just Smart Business.
For more information, see www.jaxport.com.
The opinions expressed herein are the author's and not necessarily those of The Maritime Executive.