Ten Ways to Reduce the Risk of Maritime Accidents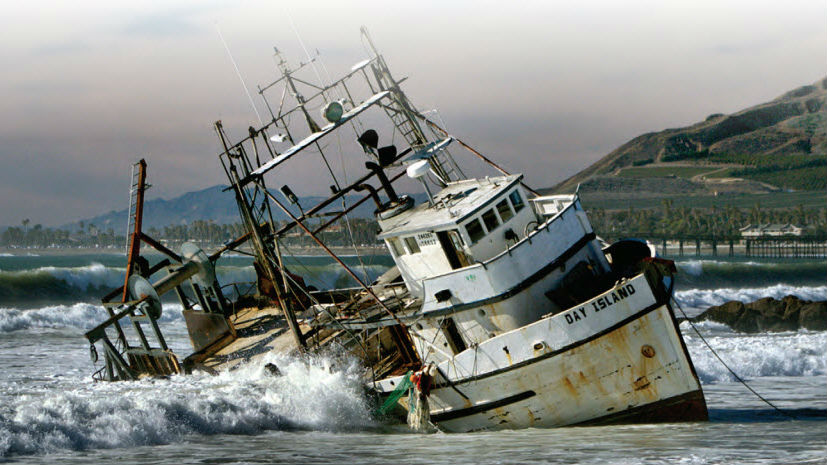 The National Transportation Safety Board (NTSB) details in its 2016 Safety Board's Safer Seas Digest the results of its investigation of major maritime accidents that have occurred in recent years.
The publication was created to help mariners working at the deck plate level prevent future accidents and tragedies, and also help maritime executives develop and maintain a workplace environment of safety at sea.
The document provides many valuable conclusions and lessons learned from the 27 investigated major maritime accidents and covers 10 different problem categories. These include fatigue, distraction, use of medication while operating vessels, standard maintenance and repair procedures, operating in strong currents, operational testing procedures, bridge resource management, familiarization with local recommendations, access to high risk spaces and safety equipment. All of these categories emphasize the multi-pronged threat that exists to transportation safety on the high seas.
In a foreword to the publication, chairman of the NTSB, Robert L Sumwalt III, emphasizes that executives and other management personnel, as well as mariners themselves, should absorb the lessons learned from the Safer Seas Digest report in order to maintain safety and avoid maritime accidents.
According to t Sumwalt, the health of the U.S. economy is tied significantly to the safety of maritime transportation. It is estimated by the NOAA that over $1.5 trillion cargo traveled through U.S. seaports in 2016. Taking steps to reduce the number of maritime accidents as explained by the Safer Seas Digest is beneficial for the safety of human life and equipment and the prosperity of the nation's economy.
Below is a brief review of the various contributing factors determined in the Safer Seas Digest report to have caused one or more of the maritime accidents investigated.
1. Fatigue
The NTSB report indicates that fatigue is one of the most common reasons for transportation accidents, and reducing this cause is a top priority for the Safety Board. The publication emphasizes the fact that mariners should be aware of how sleep loss affects their performance and should refrain from accepting a watch while in a state of fatigue that renders them unfit for duty. In such instances, mariners should prearrange for another qualified individual, i.e. a watchstander, to serve in their place when possible. If this is not possible, mariners should refuse duty until they are adequately rested and able to safely execute their responsibilities.
2. Standard Maintenance and Repair Procedures
Very often the NTSB investigates accidents that are simply caused by the failure of one or more individuals to operate according to standardized procedures involving testing, repair and maintenance of equipment. Individuals conducting these procedures must use the correct parts and tools and also ensure system integrity and safe equipment operations according to the appropriate specifications.
3. Use of Medication While Operating Vessels
Using medication in an unsafe manner as a member of a maritime crew can have disastrous results. The NTSB cautions that mariners should consult with an appropriate medical professional prior to using any type of medication, whether over-the-counter or prescribed. Also, the use of certain medications by credentialed mariners may disqualify them from operating a vessel.
4. Operational Testing Procedures
Standardized procedures should always be used when testing equipment. Optimally, the testing should be performed at normal operating pressures and loads – this can help verify the reliability and quality of the repair or maintenance work performed. All sensors and alarms within vessels should be tested routinely to verify the reliability of their operation and their capability of providing adequate warning to crew members.
5. Familiarization with Local Recommendations
It's important for vessel operators to have familiarity with and heed the recommendations of local specialists in the maritime industry as well as pertinent publications, including the United States Coast Pilot and others. Failure to do so may result in unnecessary accidents.
6. Underestimating Strong Currents
Mariners can face significant challenges when operating in high water with currents that are more powerful than normal. Under such conditions, the ability to maneuver may be diminished significantly and the risk of parting lines or dragging anchor may be increased. It's vital for operators and owners to encourage their mariners to properly assess dangers, and remain aware of prevailing conditions. As well, they must take into consideration the guidance of authoritative entities such as the Coast Guard – and from this information takes steps to minimize risks. In particular, the "downstreaming" maneuver often performed by inland towers is risky when strong currents are present.
7. Bridge Resource Management
When pilots are faced with limited reaction times and hazards are close at hand, it's important to have all possible resources available for use in order to help ensure the safe operation of vessels, including human resources and equipment. The utilization of these resources falls under Bridge Resource Management.
8. Proper Safety Equipment
It's vital that owners, operators and crewmembers of a vessel do their part to ensure the proper maintenance and functioning of safety equipment on the vessel. As well, they should ensure the vessel is equipped with the necessary safety equipment to handle emergencies and provide the best chance of survival for all on board.
9. Distractions
A very high priority by the NTSB as it concerns safety improvements involves the minimization of distractions. Although it is necessary for operators to communicate with dispatchers and crewmembers as well as conduct other work duties involving the checking of equipment and instruments, anything that hinders proper vessel operation can result in tragic outcomes.
10. Access to High Risk Spaces
The NTSB emphasizes the importance of high risk spaces, in particular those with hull penetrations, remaining freely accessible. If these spaces are blocked, a safety hazard exists and operators may be hindered from responding to flooding and other types of emergencies when and if they occur.
Scott Krist is The Krist Law Firm, P.C.'s owner and lead trial lawyer.
The opinions expressed herein are the author's and not necessarily those of The Maritime Executive.