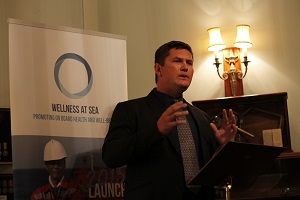 by Johan Smith
How are you doing? It's a simple question, one that you might ask and be asked a dozen times a day. But start to think about it and you soon realize that it's a complex enquiry, perhaps one of the most profound we face.

Psychologist Dr Carl Rogers in his theory of person-centeredness suggests that a person responds to their world as an organized whole, not simply in one aspect of their being. So what does it really mean to be well, in your life, your job, your relationships? Human nature is about much more than the occupational aspect of our lives, it extends to who we are as emotional, spiritual, physical, social and intellectual entities.
How a seafarer experiences life at sea, how they react to an incident, how they steer a ship or perform other duties are equally related to themselves as an organized whole. However, until very recently, it appeared that the only thing that defined a good seafarer was the standard of their technical training.
It is time we recognized that the seafarers are more than "occupational" humans. To do so during Mental Health Awareness Week [11-17 May] makes it more relevant than ever.
Firstly, we owe it to our seafarers to improve their working lives and conditions. We need to address the conclusion of research by Stephen Roberts of Swansea University's College of Medicine which found that seafaring has the second highest suicide risk of any profession in the UK.
There are also reasons of self-interest. In 2011 a master who disappeared in waters off Australia may have cost the shipowner US$50,000-US$100,000 in diversions and delays. Every incident like this is a tragedy but we should recognize that a happy, contented crew is also safer, more productive and more likely to stay in the industry.
At the heart of this issue is communication, and not just in the sense of regulatory compliance. Read accident reports and it is the clear that it is interpersonal skills and communication that too often fail seafarers at critical moments.
The maritime industry is one of the most diverse working environments in the world and seafarers are confronted with cultural diversity on a daily basis. Whether different languages, customs or religions, they will have had little guidance of how to cope with this.
We cannot think about communication and not recognize the difficulties seafarers face staying in touch with home and the impact this has on their relationships. Communications providers continue to tell us how many are connected to a growing range of services, but the majority are still waiting for anything resembling a reliable connection.
Neither can we forget the physical aspects of wellness. Research done by the ITF suggests that mobile workers such as seafarers have the highest rate of HIV infection of any group in the international labor force. Once again there seems to be an assumption that this is general knowledge. The point is being missed. Seafarer training is obsessed with safe practice as a means to prevent accidents, yet according to the University of Swansea research, more British seafarers die from illnesses than any other cause.
The profile of seafarers internationally suggests that we also need to attend to intellectual needs, including basic rights, awareness of the available welfare services and how to manage money. By the same token, many seafarers also need support in their spiritual lives, allowing the space to reflect on their beliefs.
Neither can we forget about piracy. Even though the Somali threat is receding, the problem is worsening in other areas. On a recent visit to the Seychelles, discussion with authorities revealed that despite the reduced risks in the Indian Ocean, so great is the fear of piracy that the island's youngsters are rejecting seafaring as a career.
The neglect of the human element of seafaring has come at a hefty price, both personal and financial.
The Sailors' Society believes the time has come for a genuine acknowledgement of the human factor in seafaring and an active pursuit of strategies which ensure they are supported as human beings not assets or resources.
The Wellness At Sea program is a first step in filling a gap that the industry itself recognizes. Health and wellbeing can no longer be merely added to training of seafarers as an afterthought but must instead be encoded in their DNA.
Only then, can we start to say that we are truly investing in the welfare of our crews and the safety of assets we entrust to them.
Johan Smith is Project Manager of Wellness at Sea
The opinions expressed herein are the author's and not necessarily those of The Maritime Executive.
The opinions expressed herein are the author's and not necessarily those of The Maritime Executive.