World-First Approval for VIKING LifeCraft Survival Craft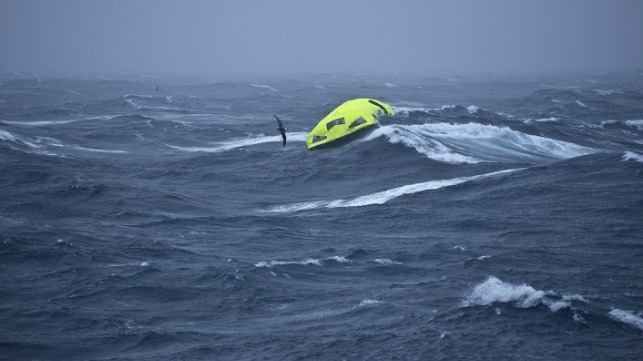 The Danish Maritime Authority (DMA) has officially approved the VIKING LifeCraft™ Survival Craft as a Novel Life-Saving Appliance, meeting the requirements for replacing conventional lifeboats on passenger ships and advancing progress toward greater safety in large-scale ship evacuation emergencies.

Following successful heavy weather trials in November last year, the Survival Craft component of VIKING Life-Saving Equipment's unique hybrid lifeboat/liferaft solution, the VIKING LifeCraft System, has now received official approval from the Danish Maritime Authority (DMA).

The approval, awarded on March 8, 2019, is the culmination of a long development and approval process. But that's not the real news. While the LifeCraft itself is a remarkable development in evacuation systems, the DMA approval marks the first time a truly "Novel" Lifesaving Appliance (LSA) has been approved anywhere in the world.

World first
Prior to the VIKING LifeCraft Survival Craft approval, maritime safety products and systems that have achieved Novel Life-Saving Appliance approvals have been adaptations or variations of conventional life-saving appliances. The VIKING LifeCraft System, on the other hand, is an entirely novel and innovative concept.

The solution comprises two main elements: four inflatable VIKING LifeCraft survival craft, each with a capacity of 203 persons, giving 812 in total, and a fully self-contained stowage and launching appliance either placed on deck or built into the ship's side.

With four independent electric engines at its corners, each Survival Craft is highly maneuverable. Its ability to rapidly turn 360 degrees on the spot, which is unmatched by conventional motor-propelled survival craft, is a critical feature for safely clearing a ship's side in an emergency evacuation. This design is, however, just one of a long list of innovations that take the system far beyond the capabilities of existing lifeboats, marine evacuation systems or liferafts.

Contributing innovations
The Danish Maritime Authority Senior Ship Surveyor, Kasper Raunskov Rasmussen, sees the Survival Craft's approval as solid proof that Danish-based maritime companies have innovative contributions to make across a wide range of aspects, not the least of which are safety and sustainability.
"The Danish Maritime Authority has been engaged in the approval of the LifeCraft since the very beginning, and we have been in close contact with VIKING and all involved parties throughout the entire approval process. We have, in particular, worked at ensuring the required and sufficient safety level and also overseen the fulfillment of the approval process for a novel life-saving appliance. However, it isn't just the result of many years of work," he says.
"It's also evidence of a particular mindset of innovation in Denmark as a major seafaring nation. VIKING has made a significant investment that will pay off, not just for its business, but surely for the safety of passengers and crew on some of the largest ships around the world."
Next level
"This is a crucial step that our customers have been waiting for," says VIKING CEO, Henrik Uhd Christensen. "Now they can take their plans for incorporating VIKING LifeCraft into both newbuilds and existing ships to the next level."

The final piece of the puzzle, slated for August 2019, is Novel Lifesaving Appliance (NLSA) approval for the chute portion of the VIKING LifeCraft System.
"The Survival Craft itself is something completely new and innovative, while the launching appliance is, in fact, well-proven technology," says Christensen. "So, we expect the necessary approval process to go every bit as smoothly as this latest NLSA approval."
The products and services herein described in this press release are not endorsed by The Maritime Executive.